WHAT IS SUPPLY CHAIN COLLABORATION AND WHY IS IT IMPORTANT?


Looking at a typical supply chain for consumer packaged goods (CPG), it is easy to see why collaboration among supply chain participants is important. The supply chains of the products we buy require complex orchestration from end to end — that is, from raw materials suppliers all the way down to the final consumer who ultimately purchases the goods.

Successful collaboration among CPG supply chain participants — including the manufacturer, 3PL warehousing company and retail customer — is essential for products to flow efficiently through the supply chain, arriving in the right quantity, at the right place and on time.
Most CPG manufacturers outsource their logistics tasks to 3PL providers for the warehousing and transportation functions. Commonly there are separate providers for the warehousing services and transportation services. The 3PL warehousing provider is responsible for inventory management and order processing functions, while 3PL transportation companies are contracted to manage the movement of freight within the supply chain. 3PL warehousing providers receive goods, store them as inventory, pick orders and load unitized pallets of products for outbound shipment.
Outbound orders for traditional CPG distribution are usually shipped to retail distribution centers, such as those for customers including Walmart and other major retailers. Careful coordination of these functions is critical for the effective movement of goods and cost savings. Efficient supply chains result from collaborative efforts of supply chain partners.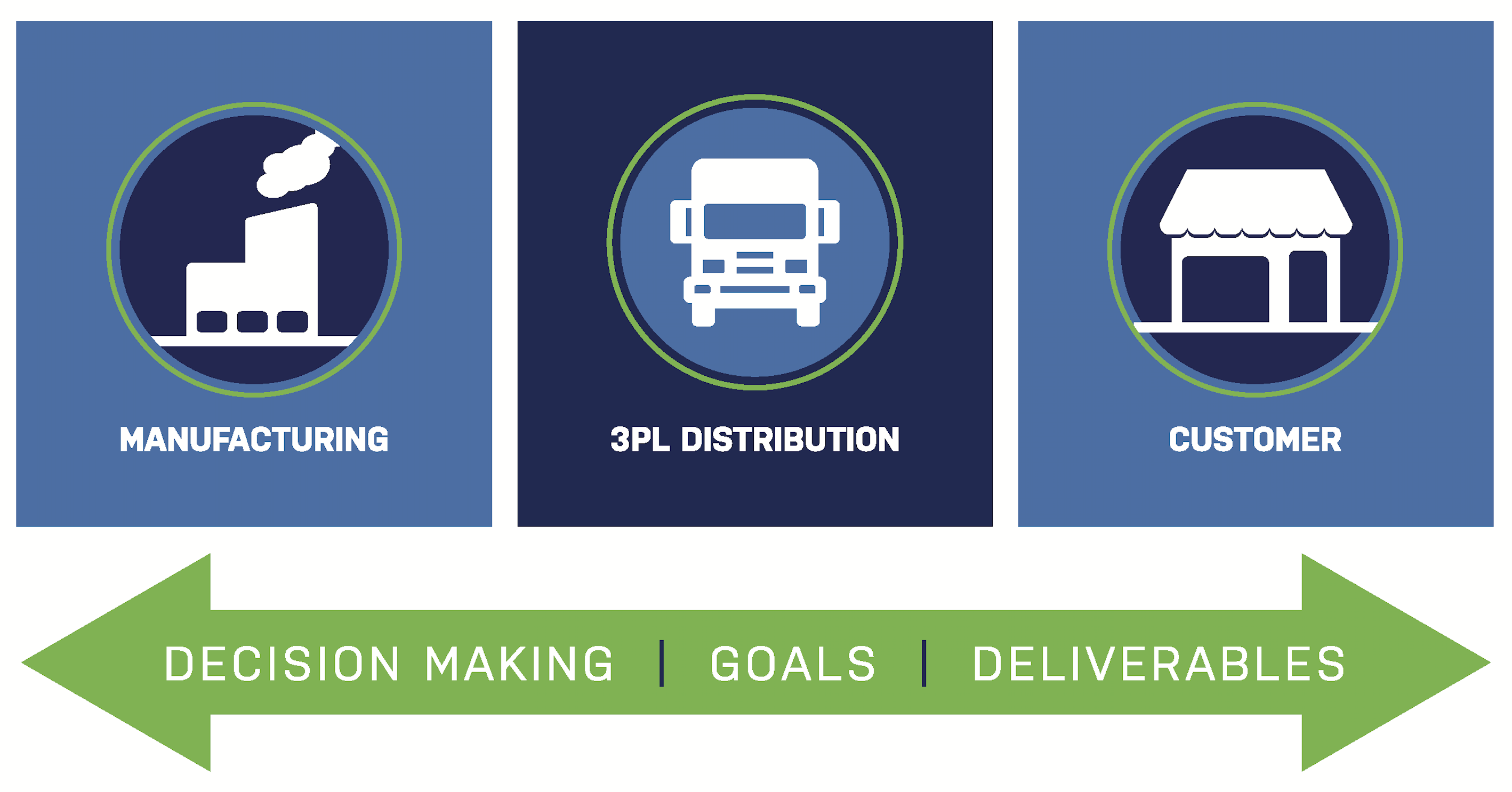 TYPES OF COLLABORATION


Simply put, collaboration is working together toward a common goal. There are two types of collaboration among supply chain participants:
Strategic collaboration: Strategic collaboration drives meaningful improvement for the long run. Examples of strategic collaboration in CPG supply chains include the development of digital innovations to improve inventory accuracy, optimization of distribution network capacity, and expansion of value-added services such as e-commerce and contract packaging services


Tactical collaboration: Teamwork that aims for improvement of day-to-day operations is tactical collaboration. Working together to smooth the flow of inbound receipts or outbound orders, communication of upcoming periods of peak demand and recommendations for stronger packaging materials illustrate tactical collaboration.
To read on about the ways in which 3PLs can successfully collaborate within the supply chain, check out the full journal article in Henry Stewart Publications' Journal of Supply Chain Management, Logistics and Procurement by clicking here.
---
The Shippers Group is a leading national third-party logistics company headquartered in Dallas, Texas with distribution facilities in Texas, Georgia, California, Florida, and Virginia totaling 13 locations and over 5.5 million square feet of space. In addition to warehousing and transportation services, the company provides contract packaging and e-commerce fulfillment to the food, consumer goods and automotive industries. The Shippers Group was founded in 1901 and today employs over 1,500 associates nationwide.