Congratulations to Cliford Bowens who was recently promoted to General Manager at our dedicated facility in Wilmer, TX!
Cliford holds a B.A.A.S in Supply Chain Management, with a Minor in Human Resources from the University of North Texas at Dallas. He is also a US Army Veteran, having spent eight years in Afghanistan and Iraq as a Logistician. Cliford's diverse knowledge and experiences add leadership, integrity, empowerment, and many other invaluable traits to our team—making him the natural choice for the job.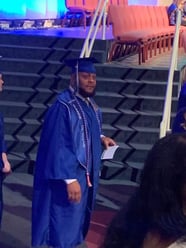 With a Yellow Belt in Lean Management, and as one of our Lean Champions at TSG, Cliford is always looking for ways to continuously improve our sites. Cliford has been with The Shippers Group for almost two years, where he started as an Operations Manager at one of our public facilities in Hutchins, TX. His experience also includes being a Senior Operations Supervisor and a Warehouse Manager prior to coming to TSG.
When asked about taking on this new role, Cliford shared, "I am grateful for the vote of confidence, and to Kurt Wenzel (General Manager at Wintergreen 1 in Hutchins, TX) for his mentorship and the latitude he gave me, which has prepared me for this next step in my career. My goal in this new position is to run the most efficient site TSG governs for this customer, and to create a culture within the facility where the employees are the Number 1 priority and the customer is a close 2nd."
Over the last 20 years, Cliford has worked nationally and internationally in progressive roles. We are excited to see all that he will accomplish in his new position!
Congratulations, Cliford!
---
The Shippers Group is a leading national third-party logistics company headquartered in Dallas, Texas with distribution facilities in Texas, Georgia, California, Illinois, Florida, and Virginia totaling 16 locations and over 6.5 million square feet of space. In addition to warehousing and transportation services, the company provides contract packaging and e-commerce fulfillment to the food, consumer goods and automotive industries. The Shippers Group was founded in 1901 and today employs over 1,500 associates nationwide.