Eliza Willis is possibly one of the most appreciated associates at The Shippers Group because she is responsible for making sure that all other TSG associates are paid on-time and correctly. Eliza is our Payroll Administrator and she is celebrating her 5th anniversary at TSG.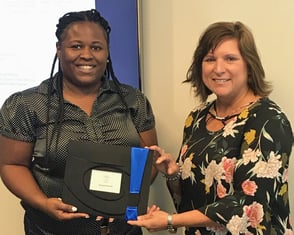 Eliza happily assists associates with a variety of questions relating to TSG's online payroll system and helps with a variety of HR initiatives. When asked what she enjoys most about working for The Shippers Group, Eliza responded, "I enjoy working for the Shippers Group because I am valued and my opinion matters. I am given the opportunity to be innovative and I know my hard work and dedication is appreciated and is always acknowledged. TSG has been a great and rewarding place to work and I look forward to being blessed to see what the future holds."
Congratulations Eliza on your anniversary and we also look forward to seeing what the future holds for you at The Shippers Group.
The Shippers Group is proud to have dedicated and skilled team members like Eliza. To learn more about our available positions, please visit us here.