For the seventh consecutive year, The Shippers Group is excited to announce that we have been named among Inbound Logistics 75 Green Supply Chain Partners!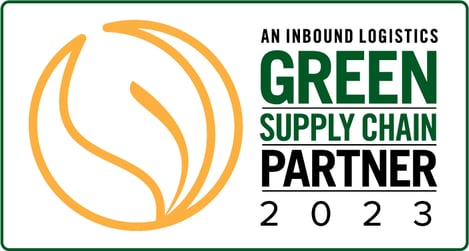 Published annually in June, the G75 list is an editors' choice list of 75 companies that go above and beyond to ensure their global supply chains are sustainable, and that their operations are socially and environmentally friendly. This is a title we take immense pride in. Sustainability is an area where we will never become complacent and is a never-ending journey for us here at The Shippers Group. There is always room for positive change.
In this past year, we have taken even more purposeful steps to reach our goal of embedding sustainability into every part of our business and helping the food and CPG companies we serve to meet their respective goals. Some highlights from this past year include:
Recycling/reusing/repurposing over 14 million pounds of cardboard & plastic.
Investing in a new Warehouse Management System (WMS) to make our operations more efficient, contributing to the reduction of our carbon footprint.
Creating a new monthly internal e-blast called 'Shippers Sustainable Steps' that shares tips & steps our associates also can take toward being more sustainable both at home and in the office. (To be truly successful in our sustainability efforts, we recognize it must be a two-way process, so this internal e-blast is aimed at making sustainability not only a value for our company but for everyone within our company.)
Investing in more low-emission technology, furthering our efforts towards a fully electric fleet, and converting batteries to lithium.
Minimizing food waste through established programs with our customers to donate expiring products to local food banks.
The Shippers Group is dedicated to making a meaningful commitment to our communities and our environment and is steadfast in developing and executing forward-thinking sustainability policies. The specifics of our program benefit our customers, employees, company, and planet, all while enhancing our ability to increase profits and remain in business for the long term. For more information, visit The Shippers Group is Committed to Sustainability.
---
The Shippers Group is a leading national third-party logistics company headquartered in Dallas, Texas providing supply chain support to brand leaders and market innovators in industries including food and consumer packaged goods. With food-grade multi-client and dedicated distribution facilities in the United States, The Shippers Group provides supply-chain solutions with outsourced warehousing, transportation, contract packaging, and e-commerce fulfillment services. Since 1901, The Shippers Group has relied on core values of integrity, innovation, excellence, and safety to grow customer relationships, focus on continuous improvement, and engage sustainable business practices that deliver results. More information is available at www.theshippersgroup.com.