Every year during the month of May, we come together to give our appreciation to those who have served and are currently serving in the branches of the US military. The privileges we have in our great nation would not be possible without the sacrifices of these individuals and throughout this month we recognize, honor, and appreciate their selfless work.
Specifically, The Shippers Group would like to thank our very own associates who served in the military. The selflessness these individuals displayed to protect our country pours into their daily lives and we are grateful for the impact they have had, and continue to have, on our company's success.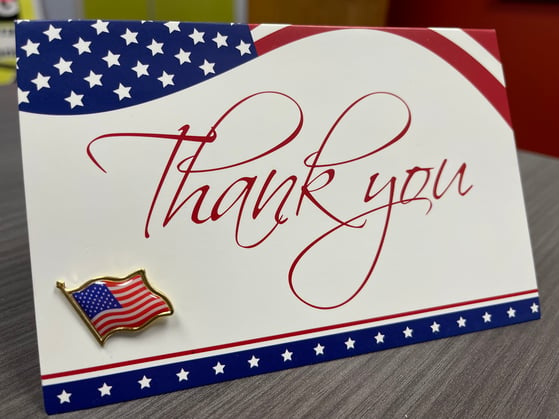 ARMY
Dale Littles, Wintergreen 1
Ivan Nieves, Orlando
PJ Sotomayor-Rivera, Orlando
John Sims, Jonesboro
Lonnie Holman, Austell
Donald Degrace, Austell
MARINES
Mark Harvey, Jonesboro
Rob Doyle, Corporate
Robert Marquez, Wintergreen 2
Tristen Armour, Austell
Eiron Kirlin, Jonesboro

AIR FORCE
Mark Wallen, Corporate

NATIONAL GUARD
Gaston Holloway, Jonesboro
Throughout this month, we encourage you to join us in thanking the servicemen and servicewomen in your lives. We also encourage you to show your support in a variety of ways, such as:
Acts of service – such as buying a meal for a service member in uniform, lending a helping hand to a neighborhood veteran, or volunteering at a VA hospital or veteran's shelter.

Donate to a veteran's charity – supporting these organizations is a great way to empower veterans to live their lives to the fullest and to provide them with needed resources.

Send a military care package – it is always nice to receive an unexpected gift and reminder of home when you're away from family. Books, decks of cards, hygiene products, snacks, and letters are all great ideas to include in your package.
For more ideas on how to say 'Thank you', visit the Wounded Warrior Project – 8 Ways to Support Military Appreciation Month.
---
The Shippers Group is a leading national third-party logistics company headquartered in Dallas, Texas providing supply chain support to brand leaders and market innovators in industries including food and consumer packaged goods. With food-grade multi-client and dedicated distribution facilities in the United States, The Shippers Group provides supply-chain solutions with outsourced warehousing, transportation, contract packaging, and e-commerce fulfillment services. Since 1901, The Shippers Group has relied on core values of integrity, innovation, excellence, and safety to grow customer relationships, focus on continuous improvement, and engage sustainable business practices that deliver results. More information is available at www.theshippersgroup.com.