Another week, another exciting announcement for The Shippers Group! We are honored to be named on Inbound Logistics' Top 100 3PL Providers list for the seventh consecutive year. As we continue to invest in managing growth, efficiently meeting demand, and improving services, recognitions like this validate our diverse operational capabilities and the value we bring to our customers.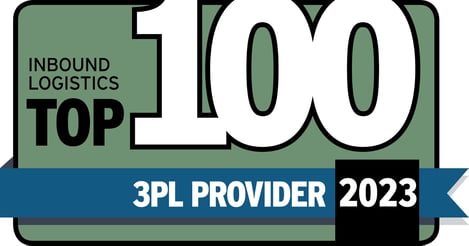 "When companies are faced with unexpected demand and growth, a need for technology and automation, and other supply chain challenges, they turn to best-in-class 3PLs such as The Shippers Group. In recognition of that effort, Inbound Logistics editors selected The Shippers Group as a 2023 Top 100 3PL Provider." – Felecia Stratton, Editor, Inbound Logistics
TOP 100 SELECTION METHODOLOGY
Inbound Logistics' Top 100 3PL Providers list serves as a qualitative assessment of service providers they feel are best equipped to meet and surpass their audience's evolving outsourcing needs.
Distilling the Top 100 is never an easy task, and the process becomes increasingly difficult as more 3PLs enter the market and service providers from other functional areas develop value-added logistics capabilities.
Each year, Inbound Logistics editors select the best logistics solutions providers by carefully evaluating submitted information, conducting personal interviews and online research, and comparing that data to their audience's burgeoning global supply chain and logistics challenges.
IL editors selected this year's class of Top 100 3PLs from a pool of more than 300 companies. The service providers they selected are companies that, in the opinion of the editors of Inbound Logistics, offer diverse operational capabilities and experience driving efficiency and operational excellence for today's demand-driven enterprises.
With such a rigorous selection process, being on this list is an absolute honor! Here's to another year of growth for The Shippers Group!
ABOUT INBOUND LOGISTICS
Inbound Logistics, the demand-driven logistics magazine, is the leading multi-channel content provider targeted toward business logistics and supply chain managers. Inbound Logistics' mission is to provide the information and solutions enabling companies of all sizes to become demand-driven enterprises by speeding and reducing inventory and supporting infrastructure, and better matching demand signals to supply. More information is available at www.inboundlogistics.com
---
The Shippers Group is a leading national third-party logistics company headquartered in Dallas, Texas providing supply chain support to brand leaders and market innovators in industries including food and consumer packaged goods. With food-grade multi-client and dedicated distribution facilities in the United States, The Shippers Group provides supply-chain solutions with outsourced warehousing, transportation, contract packaging, and e-commerce fulfillment services. Since 1901, The Shippers Group has relied on core values of integrity, innovation, excellence, and safety to grow customer relationships, focus on continuous improvement, and engage sustainable business practices that deliver results. More information is available at www.theshippersgroup.com.