The Shippers Group is thrilled to share that our warehouse in Gretna, Virginia just celebrated 5 YEARS with no OSHA recordables!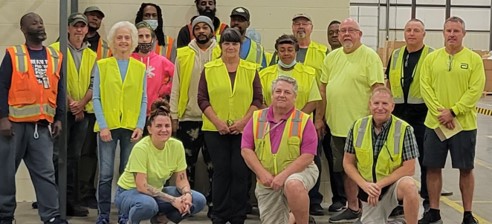 With news this big, it may come as no surprise that safety is our first priority and our most important core value at The Shippers Group. Everyone is in the know when it comes to our Safety Program - we are very transparent with our expectations, as well as our results.
Every month, each sites' management teams meet to review their current goals, year-to-date incidents, ways to prevent incidents, and upcoming training. These efforts help to keep our employees safe, as well as our customers' products.

Our associates are our greatest asset, which is why there is no compromising when it comes to safety. As President, Rob Doyle, often says "We want every employee to go home the same way they arrived, which is safe and healthy." That is something our General Manager, Lee Cassada, has successfully ensured for over 5 years! "I am grateful to be a part of a team that understands and focuses on the command goal," said Cassada.
Congratulations to our Gretna team and thank you for your continued focus on safety!
---
The Shippers Group is a leading national third-party logistics company headquartered in Dallas, Texas providing supply chain support to brand leaders and market innovators in industries including food and consumer packaged goods. With food-grade multi-client and dedicated distribution facilities in the United States, The Shippers Group provides supply-chain solutions with outsourced warehousing, transportation, contract packaging, and e-commerce fulfillment services. Since 1901, The Shippers Group has relied on core values of integrity, innovation, excellence, and safety to grow customer relationships, focus on continuous improvement, and engage sustainable business practices that deliver results. More information is available at www.theshippersgroup.com.