International Women's Day is celebrated every year on March 8th. It's a time where we recognize the achievements of women and call for positive change advancing women to help forge gender equality.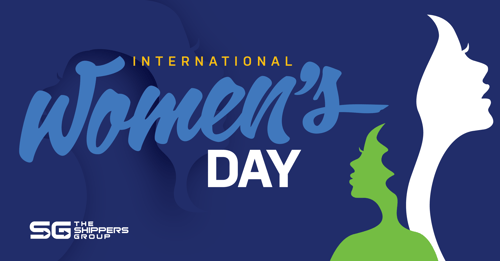 So, what better day than today to recognize the achievement of our 2022 Operations Associate of the Year? Beatriz Martel has been with The Shippers Group just shy of 5 years and has made quite an impact at our Wilmer, TX site, as well as our company as a whole during her time here. She was awarded this title for going above and beyond and for the exceptional work ethic she displays every day which reflects our core values.
Beatriz is kind, caring, supportive, hard-working, and uplifting. She leads by example and exhibits all the traits of an influential woman that others inspire to be. Beatriz is so admired by those around her that even some of her teammates wanted to share a few words on her passion, enthusiasm, and capability:
"Beatriz comes to work everyday with lot of energy, no matter the circumstance. She is considerate and pays attention to what her coworkers may need and how she can help them, without ever neglecting her own tasks. She welcomes everyone with a smile and just overall radiates positivity." – Juan Sánchez, Operations Manager

"Beatriz is always willing to help solve problems and help other associates. She always follows safety regulations and is a great asset to TSG. She always goes above and beyond to be the best employee." - Hermie Mills, Beatriz's Supervisor.

"Beatriz is a very hard-working person, she is kind and works as a team, she is always willing to help others and encourages us to work safely." - Imelda Zuñiga, Beatriz's Coworker.
The Shippers Group strives to build a workplace where women, like Beatriz, thrive and feel empowered. Having a diverse team, with women holding positions at all levels of the company, enables us to drive innovation and company growth, and create positive change. While there are still gaps to be closed, The Shippers Group remains committed to these efforts and supporting women because together, we make The Shippers Group the best it can be as a company, as an employer, and as a supply chain partner.
Congratulations, Beatriz, and thank you to all the women at TSG for paving a better future for both our company and our world!
---
The Shippers Group is a leading national third-party logistics company headquartered in Dallas, Texas providing supply chain support to brand leaders and market innovators in industries including food and consumer packaged goods. With food-grade multi-client and dedicated distribution facilities in the United States, The Shippers Group provides supply-chain solutions with outsourced warehousing, transportation, contract packaging, and e-commerce fulfillment services. Since 1901, The Shippers Group has relied on core values of integrity, innovation, excellence, and safety to grow customer relationships, focus on continuous improvement, and engage sustainable business practices that deliver results. More information is available at www.theshippersgroup.com.