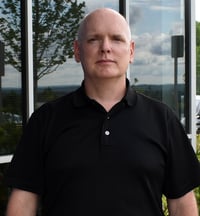 Having the leadership and operational expertise to successfully manage The Shippers Group's Gretna, Virginia facility as their General Manager for the past three years, Donavon Smith has accepted the role of General Manager of The Shippers Group in Austell, Georgia. Donavon brings more than 25 years of experience and leadership in distribution operations. In his new role, Donavon oversees 540,000 square feet of multi-client space and 85 employees serving food and CPG customers. Daily he directs the team in receiving, storage, shipping and value add services such as fulfillment and packaging.
Prior to joining The Shippers Group, Donavon worked for Nu-Art, a division of Taylor Corporation, overseeing commercial printing operations where he gained extensive experience in manufacturing, warehousing, purchasing and sales. Following those years, he worked at Home Depot's Midwest Rapid Deployment Center and for Saddle Creek Logistics before running a food production facility in the Chicago area operated by CH Robinson.
On those days when Donavon is away from the distribution center, he is enjoying time with his wife of almost 20 years and his two teenage sons who are preparing to finish high school and middle school next year. Having played college baseball for two years himself, Donavon especially enjoys coaching baseball and many other outdoor activities.