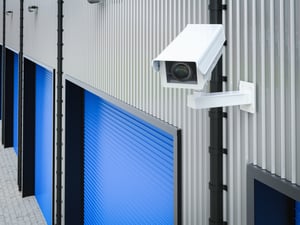 The Shippers Group follows fundamental best practices for warehouse security as outlined by the International Warehouse Logistics Association and available at www.IWLA.com.
Your 3PL warehousing partner should have a security plan. A documented security plan on file at the warehouse facility will contain processes and procedures for the building, personnel and information technology. Local, state and federal emergency contacts will be included and kept up to date. Alarms and/or video surveillance, fire suppression and alarm systems, and hazardous gas detection should be present within the building. Routine testing of all monitored systems is vital.
Yard security is necessary with manned guard houses and driver welcome centers. A fenced yard, adequate lighting, gate house and minimal access points provide protection from outside intrusion. Parking for visitors and employees away from shipping and receiving loading docks is important. Card reader access and a limited number of employee entry points is beneficial for limiting employee access to only those areas of the facility necessary for them to perform their work functions.
Warehouse security procedures regarding personnel include policies regarding pre-employment background checks as well as termination procedures. Processes for registering and accounting for all visitors including the visitor's photo-id is needed including procedures for receiving deliveries of mail, office supplies, etc. Manager training of procedures for challenging and removing unauthorized persons is a best practice to follow. Employee training pertaining to the use of business data is helpful for protecting information assets of the company. System violators improperly accessing, tampering or altering business data should be disciplined. Periodic change of passwords protects automated systems.
To read more about The Shippers Group and our commitment to quality service, visit us here.