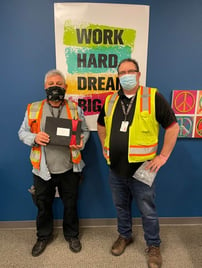 Bob Hatley is Maintenance/Sanitation Lead at The Shippers Group's Wintergreen facility. Having worked at The Shippers Group for 21 years, his dedication and can-do attitude have been influential to the growth of TSG in the Dallas area.
Kurt Wenzel, General Manager, had this to say: "Bob has been instrumental in the recent successful start-up of automated processes for a new account in our Wintergreen operation. We appreciate his leadership to confirm everything functions efficiently."
Kudos to Bob for his years of service at The Shippers Group and his contribution to ensure our core values of Innovation and Excellence!
---
The Shippers Group was founded in 1901 and today employs over 1400 associates nationwide. For more information on The Shippers Group, visit our services page.