October is Breast Cancer Awareness Month. Throughout the month, The Shippers Group is recognizing the importance of breast cancer awareness by helping to educate and bring awareness to the impacts of breast cancer, culminated by a "Pink Out!" day. During October's "Pink Out!", The Shippers Group associates are encouraged to wear their favorite pink attire from head to toe to show their support.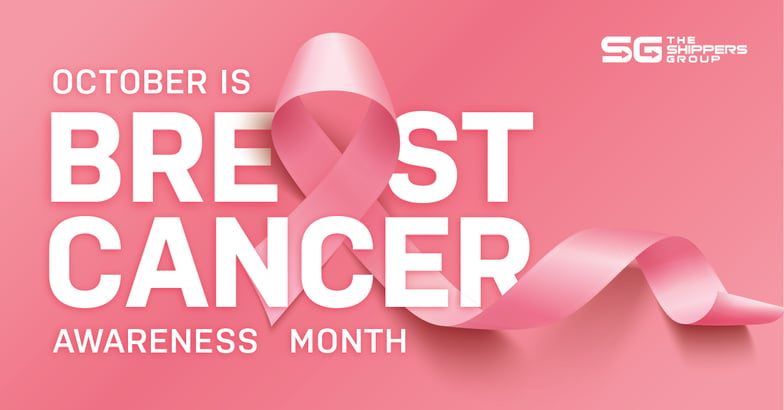 Know the Early Signs of Breast Cancer
A lump in the breast or armpit
A part of the breast that is swelling or thickening
Breast skin that is irritated or dimpling
Skin in the nipple area or the breast that is red or flaky
Pain in the nipple area, or a nipple that is pulling in
Nipple discharge, including blood (other than breast milk in lactating moms)
Changes in the size or the shape of the breast
Pain in any area of the breast
Call your doctor if you notice any changes in your breasts. The CDC also indicates that symptoms may vary from person to person, and some may not have any symptoms at all.
Know How to Check for Breast Cancer
Understand Breast Cancer Risk Factors
Smoking—Smoking is a confirmed risk factor for many types of cancer. Recent research (2012) has confirmed that smoking is a contributing risk factor for developing breast cancer.
Alcohol—Moderation is key. One drink per day has been shown to slightly increase the risk of breast cancer. Having more than one drink per day has shown to be a more significant risk factor.
Diet—A nutritious, low-fat diet (30 grams or less) with plenty of fruits and green and orange vegetables can help reduce the risk of developing breast cancer. A high-fat diet increases the risk because fat triggers estrogen production that can fuel tumor growth.
Male Breast Cancer
Even though males do not develop milk-producing breasts, a man's breast cells and tissue can still develop cancer.
Male breast cancer is very rare, but the mortality rate is higher in men.
Less than 1% of all breast cancer cases develop in men, and only one in a thousand men will ever be diagnosed with breast cancer.
Breast cancer in men is usually detected as a hard lump underneath the nipple and areola.
Breast Cancer Resources
National Mammography Program—NBCF provides grants to facilities across the United States that provide screening and diagnostic mammograms, breast ultrasounds, clinical breast exams, and patient navigation to underserved individuals who qualify. Find a facility.
Patient Navigator Program—The Patient Navigator Program is a proactive approach to helping patients overcome the barriers of cost, fear, and misinformation surrounding a disease and its prevention. Find a facility.
National Breast and Cervical Cancer Early Detection Program (NBCCEDP)—The Centers for Disease Control and Prevention (CDC) provides access to breast cancer screening services to underserved women in all 50 states, the District of Columbia, 5 U.S. territories, and 12 tribal organizations.
National Cancer Institute—Information about free or low-cost mammogram screening programs is available through NCI's Cancer Information Service at 1-800-422-6237.
The American Cancer Society—The American Cancer Society (ACS) provides resource lists for free or low-cost mammograms and financial assistance based on your location. When you visit their website, cancer.org, look for the "About Us" tab in the top right corner. Click the tab, and then select your state in the "Where We Help" menu to be directed to a list of local resources.
Breast and Cervical Cancer Treatment Program (BCCTP)—This state program is funded through Medicaid to provide underserved women free healthcare throughout treatment. The program is available in all 50 states. For the application process, contact your local hospital and ask to speak to a nurse or patient navigator regarding the program.
The Patient Access Network Foundation—The PAN Foundation provides assistance to remove financial barriers for medications, treatment, and travel expenses for patients.
Cancer Financial Assistance Coalition—The CFAC is a coalition of organizations that help patients reduce financial barriers during cancer treatment. When you visit their website, select the type of assistance needed and enter your zip code to find resources near your area.
Mammography Facility Database—The Mammography Facility Database is updated periodically based on information received from the three FDA-approved accreditation bodies: the American College of Radiology (ACR), and the states of Arkansas and Texas to provide a list of facilities where mammography services are available based on your location.
Local Hospitals—Call your local hospital. Ask to speak to a social worker, patient navigator, or nurse navigator. They will be able to refer you to any state or local financial assistance programs for breast cancer exams or breast cancer treatment.
For more information on how you can donate to the fight against breast cancer please visit the Susan G. Komen Foundation's website.
---
The Shippers Group is a leading national third-party logistics company headquartered in Dallas, Texas with distribution facilities in Texas, Georgia, California, Illinois, Florida, and Virginia totaling 16 locations and over 6.5 million square feet of space. To learn more about our areas of expertise, visit our Services page.