Congratulations to Cassie Minter who was recently promoted to our Corporate AP Manager!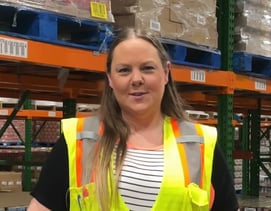 Cassie joined The Shippers Group back in January of this year. She started with the company as a Cycle Counter before becoming the Inventory Control Lead. In her previous role, she assisted with the office functions, processes, and procedures at the dedicated facility in Wilmer, TX. She also was part of our Continuous Improvement efforts, assisting with Lean Projects and acting as the Inventory Liaison for the site.
As the Accounts Payable Manager, Cassie will be managing all activities in the accounts payable function, including receiving and entering invoices into the accounting system and ensuring timely payments of vendor invoices and expense vouchers. She also will be reviewing applicable reports to ensure accuracy.
When Cassie is not at work she enjoys reading, playing volleyball, and hanging out with her family.


Please join us in congratulating Cassie on her new role!
---
The Shippers Group is a leading national third-party logistics company headquartered in Dallas, Texas with distribution facilities in Texas, Georgia, California, Florida, and Virginia totaling 13 locations and over 5.5 million square feet of space. In addition to warehousing and transportation services, the company provides contract packaging and e-commerce fulfillment to the food, consumer goods and automotive industries. The Shippers Group was founded in 1901 and today employs over 1,500 associates nationwide.