The Shippers Group has been providing updates throughout the COVID-19 pandemic beginning in March 2020 with the purpose of informing associates and customers about our response based on the latest information provided by the Centers of Disease Control. With vaccines available to anyone over the age of 16 and over 40% of Americans now vaccinated, we are entering into a new phase. As a result, The Shippers Group will move our updates from bi-weekly to monthly.
Information from the CDC indicates COVID-19 vaccines are effective at protecting you from getting sick. Based on what we know about COVID-19 vaccines, people who have been fully vaccinated can start to do some things that they had stopped doing because of the pandemic.
In indoor public spaces, the vaccination status of other people or whether they are at increased risk for severe COVID-19 is likely unknown. Therefore, fully vaccinated people should continue to wear a mask that fits snugly against the sides of your face and doesn't have caps, cover coughs and sneezes, wash hands often, and follow any applicable workplace guidance.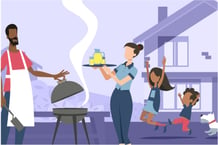 If you are fully vaccinated, you can start doing many things that you had stopped doing because of the pandemic. When choosing safer activities, consider how COVID-19 is spreading in your community, the number of people participating in the activity, and the location of the activity.
Outdoor visits and activities are safer than indoor activities, and fully vaccinated people can participate in some indoor events safely, without much risk. If you haven't been vaccinated yet, find a vaccine.
---
Taking Action
This is the latest list of actions we are taking to ensure communication to all stakeholders:
President Rob Doyle continues his

bi-weekly video address to associates.
Summary of new protocols:

Testing: A negative test is required to return to work if an individual self-quarantines or is part of a Track and Trace.

The CDC suggests the median time of 4-5 days from exposure for symptoms to onset (11/3/2020), therefore we encourage and remind individuals to not test until a minimum of 4 days off from work. This is still the associates' decision, and although this action is not required, it is highly recommended.
A return to work should take place no earlier than 7 working days from the last day worked with a negative test.
Results must be returned no later than 10 days after the last day worked.

Age: Those over the age of 60 are allowed to self-quarantine without testing on a case-by-case basis. Notify Diane for review.
Exposure: If someone has had direct contact with someone who has tested positive, they must self-quarantine and be tested (see testing section above).
Testing Centers: TSG will make it a priority to provide detailed information regarding testing locations near the office/facility.
Important reminders:


If you do not feel well, STAY HOME. Call your manager and let them know you are experiencing signs of COVID-19
Remember to SOCIAL DISTANCE yourself from other workers. Notify management if you feel this is not occurring at your site.
Wear your protective MASK, SCARF, or BANDANA always. Be sure to cover your mouth and nose. Masks are required at all TSG sites.
Wash your hands and sanitize several times a day, especially after touching hard surfaces.
Disinfect your work areas. If you need supplies to clean your equipment, desk, or any other surface, let management know immediately!
Get vaccinated!

Sites are maintaining the proper level of PPE to ensure replenishment of items given ongoing shortages and lead times for some PPE.

Managers are stressing that associates stay hydrated, which is a key to a healthy immune system. Associates are allowed water in a clear bottle on the warehouse floor to aid in maintaining proper hydration.

Practice getting plenty of rest, exercise, and good nutrition.
---
When fully-vaccinated, you can resume many activities that you had stopped doing.
---
We are #3PLStrong. We are essential. We are TSG. View COVID-19 Resources
Based on recommendations of the CDC, we will remain cautious at The Shippers Group. Following the CDC's guidelines, we will continue to require masks in our facilities, social distancing, sanitizing workspaces, and all protocols in place to help keep our co-workers and families safe.
If you have any questions about our COVID-19 response efforts, please contact Diane Villafana, VP of Human Resources and Safety Compliance.