Orlando was extra magical last week for supply chain professionals attending CSCMP EDGE!
EDGE is The Council of Supply Chain Management Professionals' annual conference & exhibition, and it is the premier event of the year for supply chain professionals! If you have not attended a CSCMP EDGE Conference yet, you are missing out on an incredible opportunity to learn from some of the industry's brightest!
From opening keynotes to the closing session, there was no shortage of inspiration, new insights, valuable networking opportunities, and actionable ideas at EDGE. It also provided a unique opportunity to view demonstrations, equipment, systems, and technologies that provide cutting-edge solutions to common supply chain challenges.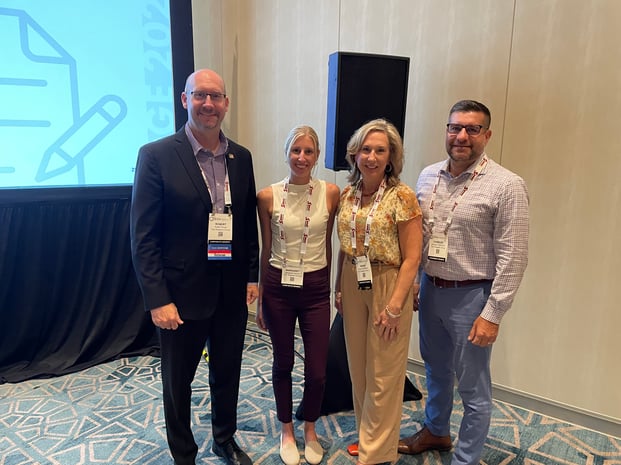 In attendance this year from The Shippers Group were (L-R) Rob Doyle, Maggie Harvey, Robin Siekerman, and Charles Thompson.
Along with being members in attendance, a few of our associates had additional visibility and involvement at the conference. Robin Siekerman, TSG VP of Marketing & Customer Solutions, who serves as the President for the CSCMP Atlanta roundtable, participated in the Roundtable Leadership portion of the conference. Additionally, Rob Doyle, TSG President, is a member of the EDGE Conference Committee and was the Warehousing Track Chair for this year's conference. The warehousing track featured four compelling sessions and panels that focused on:
Adapting to Transformative Labor Trends
Expert Insights of the Commercial-Industrial Real-Estate Markets
A Case Study on How an Industry Leader Overcame Operational Challenges through a Supply Chain Digital Transformation Journey
Embracing Integrated Robotics with Humans and other Standard Automation to Drive Efficiency and Success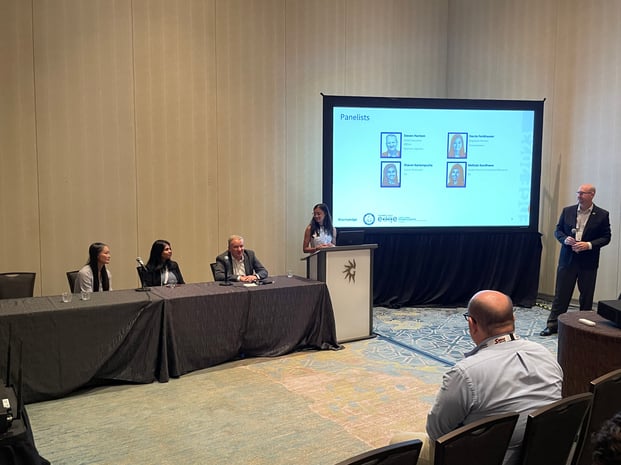 CSCMP EDGE is known as the must-attend event of the year and always lives up to the hype! The Shippers Group had a great time connecting and reuniting with our supply chain community and discovering the latest innovations, new strategies, and best practices that are shaping the industry. With the knowledge and insights we gained, we are feeling inspired and empowered as we strategize 2024 and beyond! Thank you CSCMP for another great conference!
About CSCMP
The Council of Supply Chain Management Professionals (CSCMP) is the leading global association for supply chain management professionals. CSCMP has been helping members, their careers, and their companies since 1963. Nine thousand members worldwide receive unparalleled networking opportunities, cutting-edge research, and online and on-site professional educational opportunities. For more information about becoming a member or for upcoming events for all roundtables, you can visit www.cscmp.org.
---
The Shippers Group is a leading national third-party logistics company headquartered in Dallas, Texas providing supply chain support to brand leaders and market innovators in industries including food and consumer packaged goods. With food-grade multi-client and dedicated distribution facilities in the United States, The Shippers Group provides supply-chain solutions with outsourced warehousing, transportation, contract packaging, and e-commerce fulfillment services. Since 1901, The Shippers Group has relied on core values of integrity, innovation, excellence, and safety to grow customer relationships, focus on continuous improvement, and engage sustainable business practices that deliver results. More information is available at www.theshippersgroup.com.