The most powerful community in Supply Chain came together in-person at CSCMP's annual EDGE Conference this year in Atlanta, after the necessity to hold last year's conference fully virtual due to the global pandemic. CSCMP once again delivered an impressive line-up of educational sessions and networking events during the conference in a safety-conscious environment, while also offering a virtual option for attendance.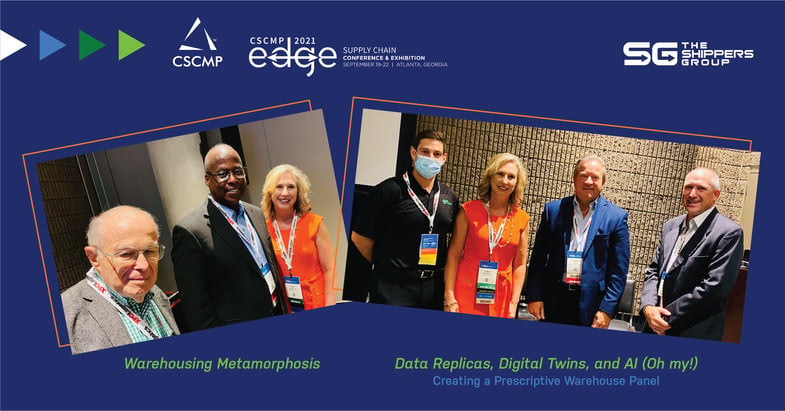 Rob Doyle and Robin Siekerman of The Shippers Group co-chaired the Warehousing Track that included three dynamic sessions:
Warehousing Metamorphosis

The Warehousing Metamorphosis track featured legends of the warehousing industry, Kenneth Ackerman, Chairman, K.B. Ackerman Company, and Elijah Ray, Chief Customer Officer, Sunland Logistics Solutions.



Industrial Real Estate


Trends and Insights for the Supply Chain


Moderated by Susie Bodnar, Principal, Neowise, this expert panel featured John Morris, Managing Director, CBRE; Stephanie Rodriguez, Senior Vice President, Duke Realty Corporation; and Troy Adams, Vice President of Real Estate, NFI Industries.



Data Replicas, Digital Twins, and AI (Oh My!)


Creating a Prescriptive Warehouse


Robin Siekerman, The Shippers Group's Vice President Marketing & Customer Solutions moderated a panel passionate about technology. The panel included Keith Moore, Chief Product Officer, AutoScheduler; Daniel Vasseur, Executive Director Supply Chain, Racetrac; and Jake Barr, CEO, BlueWorld Supply Chain Consulting.
Experts representing shippers, 3PL warehouses, transportation providers, real estate brokers, contract packagers, and ecommerce companies focused on how collaboration strengthens strategic partnerships and adds value to shippers and their supply chain partners.
Interactive sessions covered a broad range of topics and tactics for outstanding customer service and operating efficiency, which included topics such as:
Innovation
Automation
Procurement & Pricing
Lean Thinking
Labor Challenges
Rising Rental Rates
Ecommerce Demand on the Real Estate Market
The Shippers Group looks forward to CSCMP's annual conference every year. We hope to see you at EDGE 2022 in Nashville!


About CSCMP
The Council of Supply Chain Management Professionals (CSCMP) is the leading global association for supply chain management professionals. They have been helping their members, along with their careers and their companies since 1963. Nine thousand members worldwide receive unparalleled networking opportunities, cutting-edge research, and online and on-site professional educational opportunities. For more information about becoming a member or for upcoming events for all roundtables, you can visit www.cscmp.org.
---
The Shippers Group was founded in 1901 and today employs over 1400 associates nationwide. For more information on The Shippers Group, visit our services page.