Music City did not disappoint as a few members of our team attended the CSCMP's premier event of the year: EDGE 2022 in Nashville!
Rob Doyle, Hugh Tait, Robin Siekerman, and Maggie Harvey joined thousands of industry professionals from September 18 - 21, 2022 at CSCMP's annual conference to connect and discover the latest innovations, new strategies, and best practices. The conference offered unparalleled content and exhibitions and is an experience like no other, with unlimited opportunities to learn from industry experts and hear dynamic speakers you cannot find anywhere else.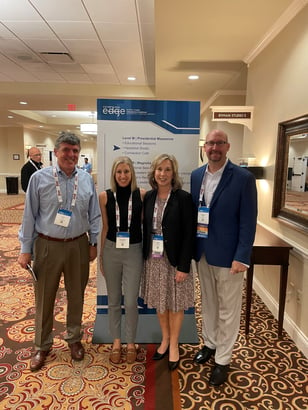 The first day of the conference opened with an attention grabbing session given by Mandy Rennehan, highlighting the misconception that white-collar jobs are perceived as "better" or "more desirable" than blue-collar ones – but both jobs are not only valuable and crucial to sustaining and growing our industry, but also the economy as a whole. Rennehan urged that if the industry does not change this common misconception, then the effects of the labor shortage will worsen and be felt throughout the supply chain industry.
The second day of the conference kicked-off with a session from Tom Szaky, CEO of TerraCycle, who works with some of the world's largest brands to achieve their commitment to the environment. Szaky's session on changing the landscape of waste focused on creating circular solutions for hundreds of waste streams such as cigarette butts, dirty diapers, and used chewing gum that otherwise have no path to be recycled.
The third and final day then began with a panel mega session focusing on The Key to Resiliency. Many companies are still importing rather than producing in their country. The discussion explored the multifaceted world of reshoring and nearshoring and if realigning production geography is the right move for your company.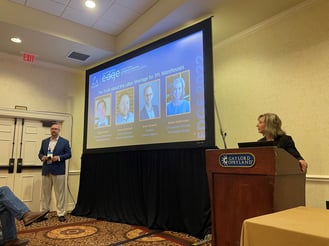 Along with these speakers and sessions, there were many breakout sessions presented by Shippers, 3PL Warehouses, Real Estate Brokers, Transportation Providers, Contract Packagers, and many other industry experts. Among these experts were The Shippers Group's President, Rob Doyle, who is a member of the EDGE Conference Committee and was the Warehousing Track Chair for this year's conference, and VP of Customer Solutions & Marketing, Robin Siekerman, who moderated a Warehousing Panel Discussion on The Truth about the Labor Shortage for 3PL Warehouses.
Needless to say, this year's conference was a fun, successful event, with many takeaways to implement into our business strategies. CSCMP's annual conference is an event we look forward to ever year. We hope to see you next year at EDGE 2023 in Orlando!
---
The Shippers Group is a leading national third-party logistics company headquartered in Dallas, Texas with distribution facilities in Texas, Georgia, Florida, and Virginia totaling 10 locations and over 4 million square feet of space. In addition to warehousing and transportation services, the company provides contract packaging and e-commerce fulfillment to the food, consumer goods and automotive industries. The Shippers Group was founded in 1901 and today employs over 1,500 associates nationwide.