A hot topic in the Supply Chain industry is the current industrial real estate market. At CSCMP's EDGE Conference last week, Rob Doyle, President and Robin Siekerman, VP of Marketing and Customer Solutions of The Shippers Group co-chaired the Warehousing Track which included a session on Industrial Real Estate: Trends and Insights for The Supply Chain. In an interactive session with the audience, real estate professionals led the discussion on various topics highlighting the current state of industrial real estate.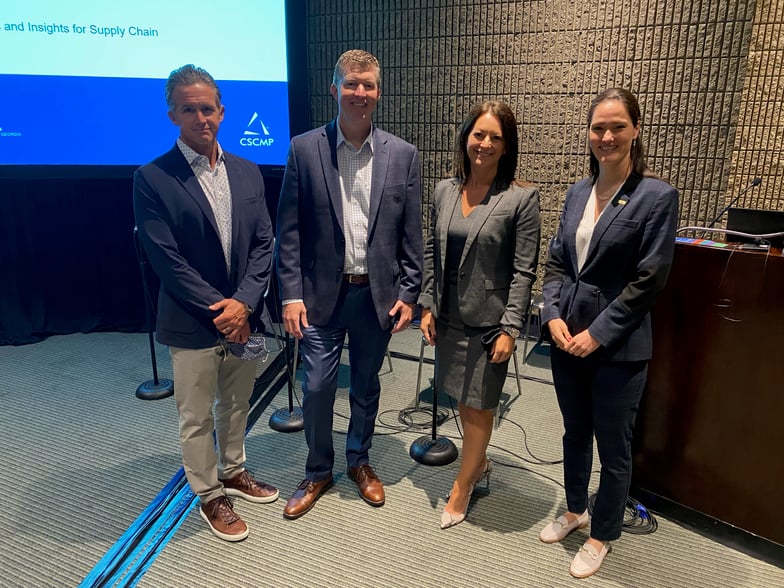 Robin Siekerman kicked off the session moderated by Susie Bodnar, Principal at Neowise. The panel of real estate experts included John Morris, Executive Managing Director at CBRE; Stephanie Rodriguez, Senior Vice President, Duke Realty Corporation; and Troy Adams, Vice President Real Estate at NFI Industries.
Ecommerce demand continues to have a significant impact on the real estate market with vacancy rates as low as 2-4%. As a result, lease rates continue to rise and demand is expected to remain strong throughout 2022.
Other key points regarding current trends in industrial real estate:
Not only are rising rental rates an issue, but labor is a challenge. 3PL operators must continue to look for ways to innovate, automate, and improve processes.





Warehouses should also look for ways to provide more value added services such as contract packaging and ecommerce.




Land, materials and labor are all supply constrained as there is heavy development on both coasts.



With manufacturing coming back, there is more room to further automate. Only 5% of warehouses currently have automation.
Strategies for network success post pandemic should address these issues, as they will continue to be financial drivers in the marketplace for the foreseeable future.


About CSCMP
The Council of Supply Chain Management Professionals (CSCMP) is the leading global association for supply chain management professionals. They have been helping their members, along with their careers and their companies since 1963. Nine thousand members worldwide receive unparalleled networking opportunities, cutting-edge research, and online and on-site professional educational opportunities. For more information about becoming a member or for upcoming events for all roundtables, you can visit www.cscmp.org.
---
The Shippers Group was founded in 1901 and today employs over 1400 associates nationwide. For more information on The Shippers Group, visit our services page.