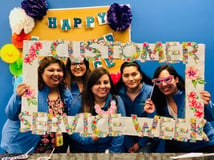 Customer Service Week is the time each year that we celebrate our Customer Service associates at The Shippers Group. Our Customer Service Representatives (CSRs) work tirelessly to serve and support customers on a daily basis and this special week dedicated to celebrating CSRs nationwide is the perfect opportunity to let them know how much we appreciate their dedication to our customers.
With 11 locations across the US, each Shippers Group location recognized Customer Service Week through a variety of fun activities. Some celebrated with a homemade waffle breakfast buffet, some raffled unique prizes, while others created their very own escape room!
National Customer Service Week's 2019 theme is The Magic of Service. Kris Hill is Director of Customer Service at The Shippers Group and when asked about the importance of honoring our Customer Service Associates, Kris exclaimed, "Our CSRs are among the best in the industry. They work hard to communicate with customers and orchestrate their needs with our operations teams. Our CSRs are passionate about doing a great job for customers."

The Shippers Group - Atlanta Customer Service associates pose for a group photo. As part of the recognition for their dedication to providing exceptional customer service, CSRs received these stylish Shippers Group jackets!
For more information about Excellence as a Core Value of The Shippers Group and our commitment to improving the customer experience, visit us at www.theshippersgroup.com.