Food distribution warehouses are a critical link in the food supply chain, and operators of food distribution warehouses are responsible for helping protect the safety of food distributed to the general public. This requires following Food and Drug Administration's guidelines as outlined in the Food Safety Modernization Act. FSMA was enacted to ensure safety practices of food manufacturing facilities, food warehouses and other food-handling facilities.
Training on a variety of food safety topics in the warehouse is essential for compliance and employee safety. The Shippers Group trains on numerous important food safety topics.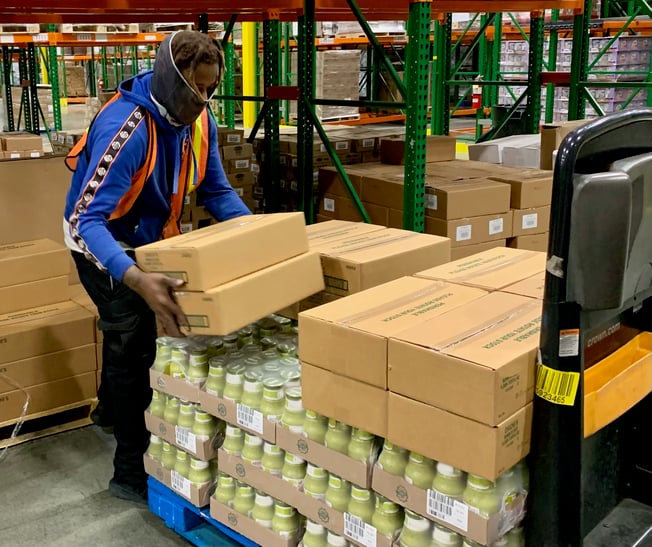 Important Food Safety Training Topics:
Food Safety in Operations—

Inspection of packaging materials, trailers, odors, temperature control, contamination, material handling equipment, and damage.

Good Housekeeping Practices—

Fundamental to maintain a clean, productive, organized and SAFE working environment.

Bloodborne Pathogens—

First-aid, infection, sharps disposal, PPE, cross-contamination, and reporting.

Food Safety & Illness—

Sanitation, pest control, lot traceability and personal hygiene.

Material Handling Equipment—

Certification, maintenance and routine cleaning.

Food Safety General Warehousing Practices—

Hand washing, no food/drink, no jewelry, hair/beard nets, clean clothing free of foreign material, no cell phone, covered bandages, good housekeeping inside and out.

Pest Control—

Prevention and immediate elimination of any and all infestation.

Allergen Awareness—

Proper posting and handling of allergens within the warehouse.

Glass & Brittle Plastics—

Not allowed unless being stored for a customer or deemed essential, clean-up procedures.

Security & Food Defense—

Mitigation of security threats, theft, penetration of secured areas, vandalism, assault, identification, safety vests, gated entrances, cameras.

Sanitation, Chemical Control and Cross-Contamination—

Prevention of contact with hazardous substances, elimination of chemical contamination and exposures, and prevention of bacterial transfer.

Shipping & Receiving—

Trailer inspection to ensure dock locks/chock, proper working order, no infestation, no tampering, and seal match.

HAACP—

Programs to help eliminate potential hazards from food to better ensure that food is safe to eat.
Safety is our #1 priority at The Shippers Group, and one of our Core Values. To learn more about The Shippers Group and our focus on safety, please visit our About Us page at www.shipperswarehouse.com.
---
The Shippers Group is a leading national third party logistics company located in 6 states. In addition to 3PL warehousing services, the company also provides contract packaging, ecommerce and transportation management services.