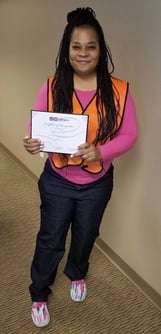 Wilmer associates surprised Glenda Cokes when they recently nominated Glenda to receive the WOW award. Glenda was elated to be recognized by her co-workers. Given Glenda's great attitude and respect for her Wilmer family, it's really no surprise that associates at Wilmer would acknowledge Glenda's dedication to make everyday a great day at The Shippers Group.
TSG's WOW program encourages associates to recognize their peers who live The Shippers Group's core values of Integrity, Innovation, Excellence and Safety.
Upon receiving the WOW award, Glenda explained how she had taken refuge in her work during a difficult time in her life and that has helped her get ahead both personally and at work. Glenda was nominated based on values of integrity and safety. Glenda said, "at the end of the day, I just want to go home to my family." This motivates her to perform her work for her well being and the safety of her co-workers.
When asked about her Wilmer teammates, Glenda warmly calls them her family saying, "here in the warehouse, I feel like I'm working with my family. We treat each other with respect and help each other." Glenda credits her mother for teaching her the importance of doing her part to help others.
The Shippers Group's Core Values:
INTEGRITY: The foundation our Associates and Customers can depend on.
INNOVATION: Driving positive change through continuous improvement.
EXCELLENCE: Delivering quality service by focusing on processes and accountability.
SAFETY: No compromising. Safety is our priority both to our Associates and Customers' product.
The Shippers Group is a leading national third-party logistics company headquartered in Dallas, Texas with distribution facilities in Texas, Georgia, California, Illinois and Virginia totaling 11 locations and 5 million square feet of space. In addition to warehousing and transportation services, the company provides contract packaging and e-commerce fulfillment to the food, consumer goods and automotive industries. The Shippers Group was founded in 1901 and today employs over 1200 associates nationwide. For more information on The Shippers Group, visit our services page.