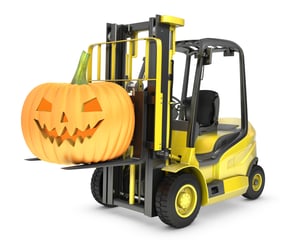 Today we celebrate Halloween and tomorrow is the start of the holiday shipping season!
The average consumer will spend $1000 on gifts this holiday season but most give little thought as to how merchandise arrives on store shelves or the journey goods take to arrive at their door step. Manufacturers and distributors have been planning for months to make sure the goods are available when consumers want them. Although most purchases are made during the month of December, just after Halloween begins the steady rise of shopping activity with the pace rapidly accelerating following Black Friday.
What does all this mean for logistics providers, specifically the 3rd party warehouse and ecommerce centers? For the warehouse, inventories begin to growing significantly in August through October. Inbound activity generally exceeds outbound activity during these months for food and consumers goods providers. The velocity of goods movement in the warehouse increases rapidly in late October through mid-November just prior to Thanksgiving. For those centers more focused on e-commerce, the season begins to pick up momentum by mid-November and by December is at full throttle until early January.
Making sure the right goods are at the right place at the right time during the holiday season requires accurate forecasting, planning and coordination with logistics providers. Synchronization of the supply chain is critical for success. Communication is key to ensuring synchronization is achieved.
Not only does the shipper have to plan early but so does the distribution center. The third-party warehouse is reliant on the shipper to share their holiday shipping plans so it can accurately forecast labor needs and hire accordingly. The 3PL distribution center should openly communicate it's available capacity to shippers so that there are realistic expectations of the shipper regarding it's 3PL's ability to meet his holiday shipping needs.
Postseason, shippers and their distribution providers should review their successes and opportunities for improvement as pre-planning begins for the next holiday season. In the meanwhile, Happy Halloween!
For more information on how The Shippers Group can help your company have a merry holiday shipping season, please contact us and request a quote.