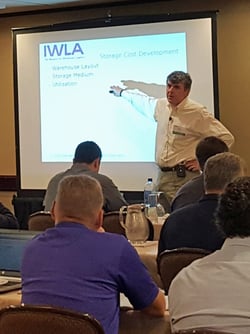 The International Warehouse Logistics Association brings together industry specialists in warehouse operations and 3PL sales to share their knowledge and expertise. Hugh Tait, Senior Vice President of Customer Solutions at The Shippers Group, has served IWLA in this capacity numerous times. He instructs warehousing professionals on topics ranging from sales, pricing and marketing strategy, most recently at the IWLA Economics of Warehousing & 3PL Sales Course.
Forty-five warehouse owners, operators and managers with P&L accountability and responsibility for rate-making, budgets, and sales assembled at Catamaran Resort Hotel & Spa. They benefited from network opportunities, interactive sessions and roundtable discussions with industry peers. Hugh has more than 25 years of sales and rate-making experience in the warehousing industry. Highly regarded in the industry for his expert knowledge in both operations and sales, Hugh knows how to advance sales in a truly collaborative approach. Of his experience in working with IWLA, he says, "It's exciting to spend time with our peers in the industry and the professionals at the IWLA. The rates course truly advances a rigorous understanding of costs and pricing in a collaborate environment that challenges even the instructors. I personally learn a lot from the perspectives that the attendees bring to the meetings".
For more information about IWLA visit their website at www.iwla.com. To learn more on how you can collaborate with The Shippers Group to service your supply chain needs, please visit us online at www.theshippersgroup.com.