Forklifts and other material handling equipment such as pallet jacks are ordinary equipment in distribution centers. Their proper maintenance and use help ensure the safety of warehouse associates and facilitate the efficient movement of goods through the facility.
National Forklift Safety Day is recognized every June and reinforces the importance of operator safety training and forklift safety practices. This article provides useful reference material as a refresher on the importance of forklift safety as well as proper use and maintenance. Additionally, it explores the impact of the recent labor shortage on forklift safety.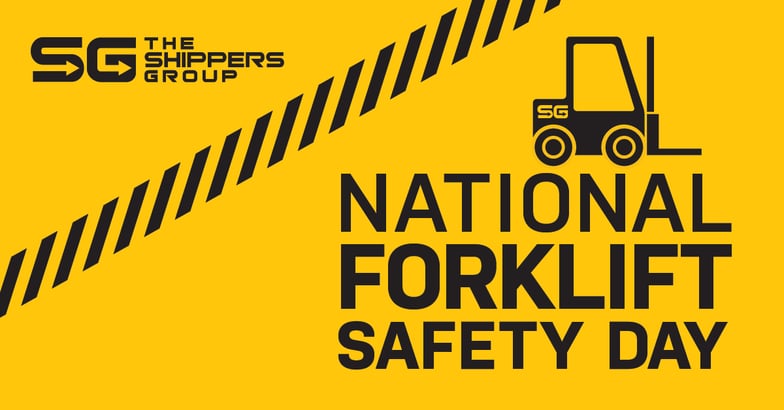 UNDERSTANDING THE BASICS

First and foremost, it's imperative to ensure that your forklifts are well maintained and that associates are utilizing safe operating procedures. The Shippers Group has created a comprehensive checklist that details the critical key points that safe, skilled, and experienced forklift operators should use to help ensure safety for themselves and their fellow workers. Among the topics included in the Forklift Safety 101 checklist are:

Pre-op inspection of equipment
Seat belts
Maintenance
Load movement and stability
Steering
Forks
Basic operation

KNOWING THE HAZARDS

There are five common safety hazards when operating a forklift. The Shippers Group has provided tips on handling the machinery safely in our blog, 5 Common Safety Hazards when Operating a Forklift. You can help potential injury and damage while operating forklifts when you are aware of:

Workplace conditions
Restricted visibility
Center of gravity
Steering differences
Battery handling & charging

TRAINING A SKILLED WORKFORCE

Recent labor shortages have led to a lack of certified and skilled materials handlers, and the demand presently far exceeds the supply. Therefore, it is critical that all employers of materials handlers ensure they are properly certified and well-trained. 3PLs must commit themselves to developing and maintaining a skilled workforce that includes safe working conditions, job training, equipment training, strong wages, and other benefits to attract and retain workers. Without this commitment, employers experience more injuries, product damage, and property damage because forklift drivers and other materials handlers are not prepared to safely operate equipment.

COMMITMENT TO SAFETY

The Shippers Group is committed to safety—no compromising. Safety is our number one priority and is ingrained in our core values. Our employees are our number one asset not only during Forklift Safety month, but 365 days a year!
---
The Shippers Group is a leading national third-party logistics company headquartered in Dallas, Texas with distribution facilities in Texas, Georgia, Florida, and Virginia totaling 11 locations and over 5.2 million square feet of space. In addition to warehousing and transportation services, the company provides contract packaging and e-commerce fulfillment to the food, consumer goods and automotive industries. The Shippers Group was founded in 1901 and today employs over 1,500 associates nationwide.