When you think of Orlando, your mind probably instantly jumps to the fun vacation destinations – Walt Disney World, Sea World, and Universal Studios. With these exciting theme parks, numerous zoos, and vibrant entertainment centers, there's no wonder why it's one of the most visited cities in the US.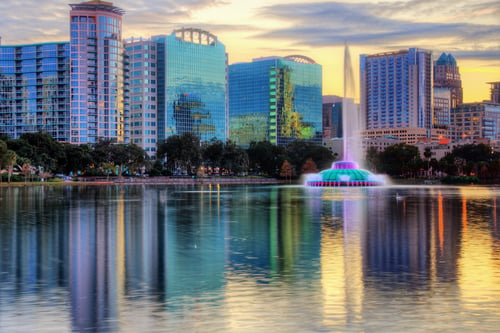 There may be a little more to Orlando than you think, though. Because of all the tourist traffic, the city has become Florida's most connected city, gaining the interest of those in the supply chain industry. The city's transportation infrastructure, strong labor pool, and business incentives are a few of the many reasons why logistics companies are choosing to locate their operations in Orlando.
Centralized Location:

As the nation's only quinti-modal hub, the Orlando area connects anywhere to the world via road, air, rail, sea, and even space. The region has 3 major ports less than 2 hours away, 9 international airports within 100 miles, and sits at the crossroads of Florida's highway network. Proving itself to be among the most progressive, forward-looking regions in the country, Orlando has also invested over

$10 Billion in transportation infrastructure projects

that are underway.

Labor Market:

Orlando's population is among the nation's fastest growing and their workforce is young, diverse, and well-educated. According to the Florida Department of Economic Opportunity, LAUS, 2022, the city has over 1.4 million workers in the existing labor pool. Their talent pipeline also includes more than 500,00 students within a 100-mile radius. These combined allow companies in the Orlando area to have a strong workforce both now and well into the future.

Business-Friendly:

Due to supportive state and local policies, Orlando offers a tax friendly climate and affordable real estate. The state also offers incentives that are available on a case-by-case basis with the deciding factors being job creation, capital investment, and quality of wages. Add with the cost of living being below national average, you quite literally get more 'bang for your buck' in the city of Orlando.
Think Orlando might be right for your business? If you're looking to open a new distribution center or to relocate your current operations, we can help! The Shippers Group currently operates in the Orlando market and is an industry leader in contract warehousing. We offer flexible agreements and different options for space and labor. To learn more about how The Shippers Group can help with your warehousing solutions in Orlando, contact us today!
---
The Shippers Group is a leading national third-party logistics company headquartered in Dallas, Texas providing supply chain support to brand leaders and market innovators in industries including food and consumer packaged goods. With food-grade multi-client and dedicated distribution facilities in the United States, The Shippers Group provides supply-chain solutions with outsourced warehousing, transportation, contract packaging, and e-commerce fulfillment services. Since 1901, The Shippers Group has relied on core values of integrity, innovation, excellence, and safety to grow customer relationships, focus on continuous improvement, and engage sustainable business practices that deliver results. More information is available at www.theshippersgroup.com.