Last week, The Shippers Group joined the International Warehouse Logistics Association (IWLA) in leading a webinar on our recently published white paper that addresses the question, "How does a third-party (3PL) warehousing company thrive during the middle of a global crisis?" Expanding on this topic from the white paper, Rob Doyle, President; Robin Siekerman, Vice President Marketing & Customer Solutions; and Diane Villafana, Vice President Human Resources & Safety Compliance talked about how The Shippers Group successfully navigated a global pandemic.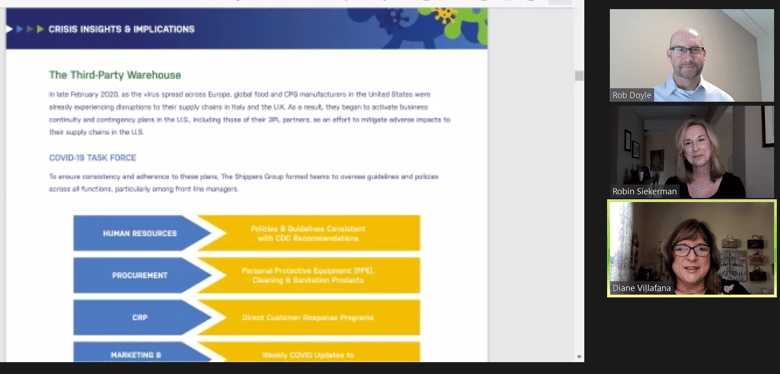 During the webinar, The Shippers Group addressed key topics within the paper, including:
Food supply chain disruption, implementation of new safety protocols, changes in demand, the essential workforce, and the importance of scalability.


How The Shippers Group was able to add dozens of new customers and open three new distribution centers throughout challenging circumstances.


Customer collaboration and the essentials of a successful 3PL partnership.


Adapting to new realities and the importance of best practices, continuity planning, recruiting, employee training, automation, and sustainability are critical as we look ahead to the future.
To learn more about how The Shippers Group navigated a Global Crisis, check out our white paper download, How a 3PL Warehouse Successfully Navigated the COVID-19 Global Pandemic.


---
About IWLA:
As the resource for warehouse logistics, the International Warehouse Logistics Association (IWLA) is the only trade association that represents the interests of third-party logistics (3PL) providers across North America. IWLA offers specialized education for warehouse owners, executives and operators. The annual IWLA Convention & Expo attracts C-level warehouse leaders and the best supplier partners to the industry. Other IWLA offerings include workshops, seminars, an insurance captive, networking, warehouse law, retained counsel services, warehouse forms, promotion of the 3PL industry and a 3PL search engine.


---
The Shippers Group is a leading national third-party logistics company headquartered in Dallas, Texas with distribution facilities in Texas, Georgia, California, Illinois, Florida, and Virginia totaling 16 locations and over 6.5 million square feet of space. To learn more about career opportunities at The Shippers Group, visit our Careers page.