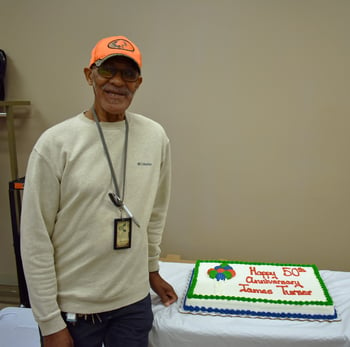 How many people can say they've worked for the same company for 50 years? James Turner can! Such a milestone event calls for a celebration. The team at our Jonesboro facility celebrated James's accomplishments, with his family in attendance, at a celebration luncheon on December 12.
James began his employment at The Shippers Group in 1968 when the company was known as Southern Bonded. He recalled his early days when the company handled more general merchandise like glassware and furniture and there were no forklifts in the warehouse. James's dedication to his job lead him to seven years without taking a vacation day back in the early years of his employment until Managers informed James that he would be required to take his vacation. He arrives every day on-time at 6am enthusiastic to start the day.
When asked what roles he has had during his 50 years with the company, he said he "has done just about everything." From unloading railcars to making deliveries, James has accepted every task as a challenge to do his best. His advice for today's newest team members is to "come in and do what you're supposed to do." James also talked about the importance of "speaking up when you see that things aren't right."
James's work ethic and dedication has earned the respect of his fellow teammates. Even though James leads in tenure, he is accompanied by other teammates at the Jonesboro facility who have also dedicated over 40 years to the company. He was congratulated and recognized by teammates who over the years have become more like family.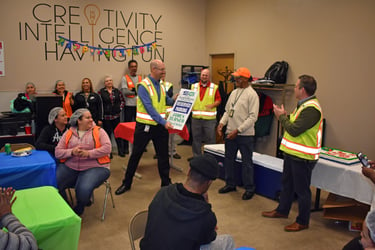 In recognition of James's enthusiasm and dedication to do his best work every day, Rob Doyle, President of The Shippers Group presented James with his own parking spot and cash award. Rob boasted about James saying, "You have been a model employee for fifty years now and an asset to this company. We appreciate the selfless service you've given for so many years."
Congratulations James and we look forward to your leading example for many years to come!