The Shippers Group is excited to announce Jorge "JD" Cortez as our 2020 Operations Associate of the Year! A surprise celebration for JD took place in early April at our Grand Lakes 2 location to present him with his award. Joining the team was President, Rob Doyle; VP of Operations, John Dennington; and VP Human Resources-Safety Compliance, Diane Villafana, to personally congratulate JD on his award and thank him for his hard work and dedication to The Shippers Group.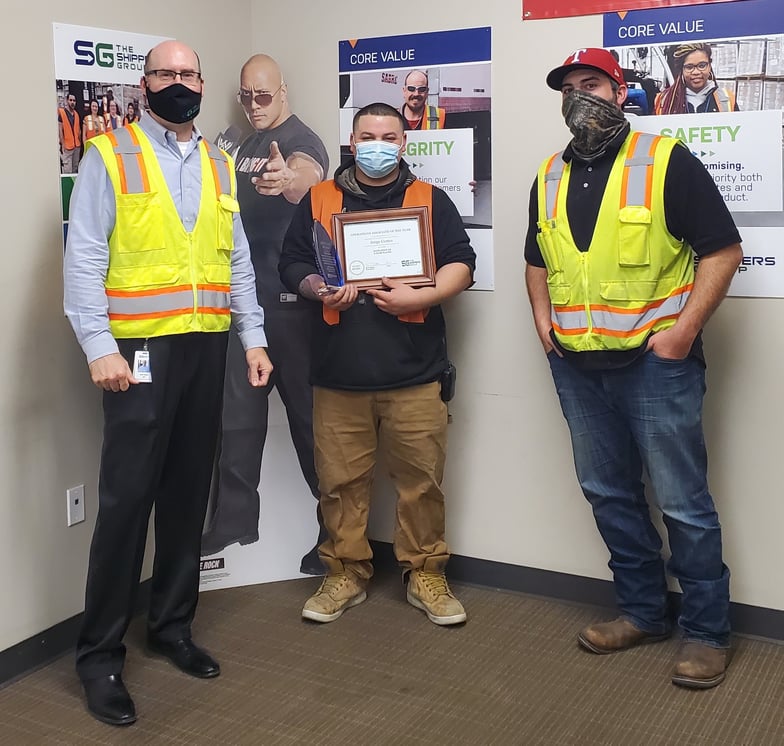 (Left to Right)—Rob Doyle, President; JD Cortez, Associate of the Year; JT Schaffer, General Manager Grand Lakes 2 & Mesquite 2

Every month at The Shippers Group we choose an Associate of the Month. These individuals are nominated by their coworkers as someone who is a team player and goes above and beyond in their role. From these monthly winners, ownership and top leadership choose two recipients for the Associate of the Year award. There is both an operations recipient and an office recipient, and each are chosen based on displaying the best overall work ethic, safety, production, and attitude.

JD has been with The Shippers Group for two years, and during that time, he has taken on tremendous responsibility. As the Lead for our Grand Lakes 2 warehouse in Grand Prairie, TX, JD is the Floor General when the GM is at other facilities, handling opening and closing the warehouse, all while still being a working Lead. He has taped out locations, cycle counted, and even pitched in to help with janitorial items. In addition to being the leader of the Safety Committee, JD is bilingual and is always the first one to help when there is a breakdown in communication with some drivers.

When commenting on JD's award, General Manager JT Schaffer had this to say:
"As I bounce back between the two facilities, JD is the one I can count on when I'm not there. He is the go-to person, while still being a working lead. He is on the floor all day picking, loading, and receiving, all while helping the other guys on the floor with questions or direction to keep the workflow smooth. He takes any direction and runs with it and jumps at any opportunity for improvements in the warehouse . He is a model employee, and I am proud to have him on my team!"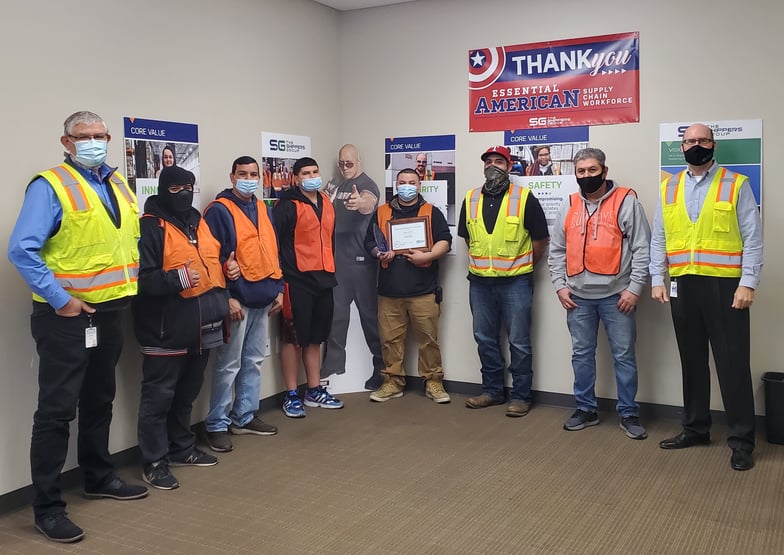 Congratulations on your award, JD!
You go above and beyond in every aspect of your job, and we are so grateful for everything you to do to make our site, team, and company a success!
---
The Shippers Group is a leading national third-party logistics company headquartered in Dallas, Texas with distribution facilities in Texas, Georgia, California, Illinois, Florida, and Virginia totaling 16 locations and over 6.5 million square feet of space. To learn more about career opportunities at The Shippers Group, visit our Careers page.