The Shippers Group is proud to announce the recent promotion of JT Schaffer to General Manager at two of our facilities in Mesquite and Grand Prairie, TX.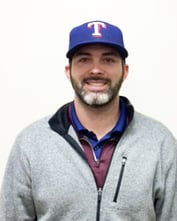 JT joined The Shippers Group back in 2013 as part of a 3-year training program where he worked in the Illinois location and all Texas locations. During this time, he worked in various roles including inventory control, picking, loading, and supervision. Upon completion of the training program in 2016, JT was promoted to Operations Manager at our Wintergreen facility in Hutchins, TX. Near the end of 2019, JT led a successful start-up of our second Grand Lakes location, where he took on the new role as the Sr. Operations Manager.
The Shippers Group opened two new facilities in Texas this year, and JT was instrumental in both start-ups. His promotion to General Manager includes the facility in Grand Prairie he helped start-up last year and the location in Mesquite that he helped open this year.
A graduate of the University of North Texas with a degree in Finance, JT is a proud husband to Jordan and father to his daughter, Chandler. JT and Jordan are also expecting baby #2 in April, and Chandler is very excited about her new little brother. Doubling as an Instagram husband for his wife during his spare time, JT also enjoys reading, going to the lake, hunting, and rooting for the home teams—Mavs, Cowboys, Rangers, and Stars.
When asked about his new position, JT shared "I would like to take the time to thank all the people who have helped me along the way to get to this position where I'm at today: Raul Martinez (WG2), Don Brown (WG2), Mac McClurg (Retired), Ken Patterson (AHA), Julian Garcia, Don Blakney (Bolingbrook), Trey Muggley (WG2), John Dennington, and the entire corporate team. I would also like to give a special thanks to Kurt Wenzel, General Manager – Wintergreen 1, for everything he's been able to teach me, which has prepared me to take on this role." He continued to say, "The game plan for both buildings is still the same – provide quality service in a clean building."
Congratulations, JT!
---
The Shippers Group was founded in 1901 and today employs over 1400 associates nationwide. For more information on The Shippers Group, visit our services page.