The Shippers Group owner Ken Johnson was recently honored with Abbott Nutrition's Outstanding Ally Award. Ken was recognized at the Abbott Nutrition 2017 Logistics Provider of the Year Program for his continued support in advancing Abbott's supply chain infrastructure and capabilities to meet their commitment of delivering products for patients to live a healthier and better life.
"While I am honored that my name appears on the 2017 Abbott Nutrition Outstanding Ally Award, the most important name on that trophy is The Shippers Group. Without the hard work and dedication of our associates in Hutchins, TX; Austell, GA; Fairfield, CA; and Gretna, VA this would never have been possible. My thanks to all of our dedicated professionals who do such a great job every day," says Johnson.
This award represents the commitment and partnership between Abbott Nutrition and The Shippers Group to foster improvements that drive supply chain excellence and consumer confidence in Abbott Nutrition to consistently deliver products that improve daily living.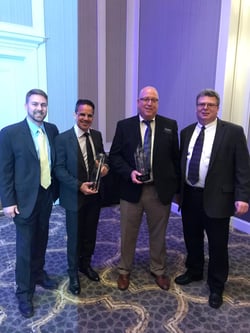 Pictured left to right (above): Larry Jimenez, David Mattioli, Ken Johnson, H.T. Vassar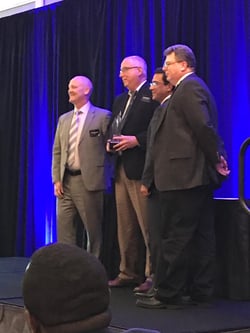 Pictured left to right (above): Craig Shields, Ken Johnson, Ulises Carrillo, H.T. Vassar