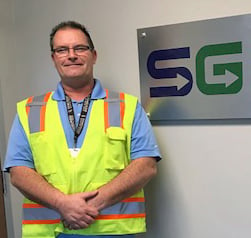 The Shippers Group is happy to announce another promotion from within the company of Kurt Wenzel to General Manager of their Wintergreen location in Hutchins, TX. Kurt has worked for The Shippers Group for almost 7 years and has worked in warehousing and logistics industry for 28 years. Starting as a forklift driver while in school, Kurt has worked in almost every position as a warehouse operator from pulling orders to unloading and loading trailers, spotting trailers, etc. Upon completion of his degree in Business Administration, Kurt officially began his career in warehousing as a forklift driver and worked his way up the supervisory ranks to General Manager of multi-client high-volume facilities.
As Kurt reflected on his career, he explained, "In my 28 years (6.5 with TSG) working in this industry and many of them being for large publicly traded companies, it is nice to come to work for people you know and are willing to put in the same blood, sweat and tears in as you are. My first few months with TSG were spent in a start-up alongside Graham Swank, John Dennington and daily interaction with Ken Johnson. This opportunity helped me realize that TSG was the right place for me and my family. I know that I can pick up the phone anytime and have a conversation, whether it is personal or business, with the people I work for, and I know they have their employees best interest in mind when they make decisions."
Kurt is married with three children. He is a retired Pop Warner and high school football coach having more time these days to more closely follow his favorite teams the Chicago White Sox, Texas Rangers and Miami Dolphins (which he says is a long story…). Kurt enjoys spending the weekends and holidays with friends and family.
For more information about leadership at The Shippers Group, please click here.