Countervailing storylines created big challenges for 3PL warehouses during the pandemic. Attendees filled-to-capacity a session titled, "The Truth About the Labor Shortage for 3PL Warehouses" at CSCMP EDGE in Nashville, Tennessee where a panel of industry experts discussed the effects of the pandemic on the availability and characteristics of warehouse laborers and the future impact to supply chains.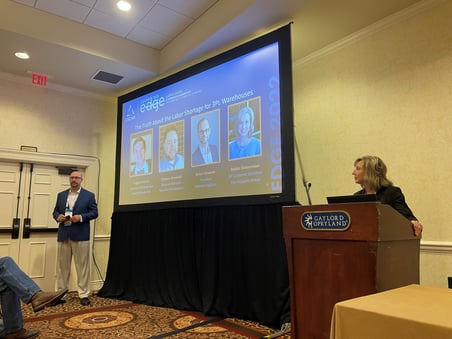 The session, moderated by Robin Siekerman, VP of Customer Solutions at The Shippers Group, explored how extremely difficult it was to hire workers, even as pandemic benefits ran out and millions remained unemployed. Logan Potere, Director of Warehouse Operations for the largest revenue generating business unit of Scotts Miracle-Gro, sat along side Chance Brimhall, General Manager of New Era HR Solutions — an HR consulting and workforce management company — and Brien Downie, President of Holman Logistics — a leading third-party warehousing company — to discuss some of these key issues.
Panelists discussed the massive disruption in the warehousing labor market, specifically the availability of labor and impacts to wages, triggered by the Coronavirus pandemic. Potere explained, "The labor challenges of 3PL warehouses during the pandemic did not diminish the value of their 3PL partnerships, and if anything, it increased their value." Scott's Miracle-Gro heavily relies on their third-party warehousing and other partners to support their supply chain needs. Disruptions in supply chains and the movement for nearshoring, that continues to gain momentum in the U.S., increases the dependency of companies like Scott's Miracle-Gro on 3PL warehousing partners like Holman Logistics.
Downie, President of Holman Logistics, talked about the effect of the labor shortage on operations and profitability, which has led his team to look for ways to reshape workforce management. This included a conversation about technology and automation as answers to the challenges of the labor market. Downie commented, "Good luck finding robots to stack fertilizer. Investments in culture win over investments in technology every time." He talked about how the pandemic has impacted wages, benefits, and the dynamics of how people choose to work. Although wages have increased 25%-30% over the past two years, it remains difficult to hire and retain warehouse employees.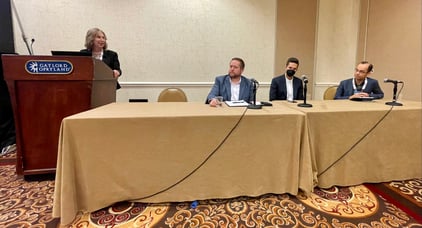 Traditional scheduling for warehouse associates and other production personnel makes it not only difficult, but more often impossible, for an associate to have time off to make appointments or attend a child's activity when it conflicts with the associate's work schedule. Today, people demand accommodating work environments and flexible scheduling. This led to a very interesting part of the conversation led by Brimhall, who talked about new scheduling apps like ShiftSwap and When I Work, that facilitate when and where people work. New Era HR Solutions and Holman Logistics have successfully collaborated to bring workplace flexibility solutions to warehouse associates enabling better work-life balance.
Although side hustles are nothing new, the gig economy is trending in the conversation of workforce management. The pandemic forced many who were out of work into new side hustles resulting in a growing gig economy. As rising inflation has offset wage increases and placed added financial strain on individuals and their families, warehouse associates look for employers who offer work flexibility so they can grow their entrepreneurial enterprises or work a second job.
The panel concluded that no one can really predict what will be the next prevailing labor challenge or how we will be forced to respond. What is certain is the ongoing need to listen to associates, a desire to collaborate, and a willingness to change to meet their ever-changing needs – all while keeping in focus customers' supply chain needs.
The annual conference of CSCMP, is the premier supply chain event bringing thousands of industry experts together for networking and hundreds of educational sessions focused on everything supply chain from the latest high technological advancements, talent development, regulations, labor, materials handling, transportation, sustainability, and much more.
---
The Shippers Group is a leading national third-party logistics company headquartered in Dallas, Texas with distribution facilities in Texas, Georgia, Florida, and Virginia totaling 10 locations and over 4 million square feet of space. In addition to warehousing and transportation services, the company provides contract packaging and e-commerce fulfillment to the food, consumer goods and automotive industries. The Shippers Group was founded in 1901 and today employs over 1,500 associates nationwide.