Contributing Author: Amy Landers
At The Shippers Group, we look for ways to improve productivity. More efficient operations render cost savings we can pass along to our customers. Savings from layer pickers result from rapid speed of picking and improved accuracy but also from fewer injuries of manual labor. These are compelling reasons that led us to install layer pickers in our Wintergreen and Austell distribution facilities.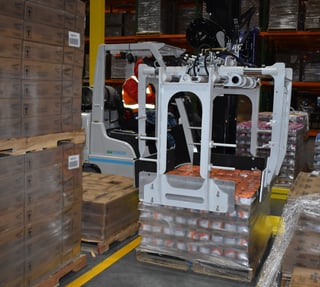 WHY DID WE DECIDE TO INSTALL LAYER PICKERS?
Given the volume of case picking in these facilities resulting in warehousemen picking layers of product, the decision was a no brainer. We position high velocity case pick skus on the floor along both sides of the layer picker. The Operator is then able to pick orders of those skus 4-5 times faster than traditional hand-pick. Experienced warehousemen pick at a rate of 240-250 cases per hour. With the layer picker, the Layer Pick Operator picks at a rate of about 1200-1250 cases per hour; and therefore, rapid return on investment.
EXPLAIN THE TECHNOLOGY
We created a "layer pick zone" that is essentially a flexible pick line. This means that the item in pallet position 1 currently does not have to be the same item tomorrow or even next shift. This gives the warehouse an advantage catering the work the layer picker is doing to the demand of the day or shift. At the beginning of each shift, a report shows the Manager layer picking demand for the shift based on a defined layer threshold. The layer pick zone is replenished the same way all other pick lines are replenished. When the Layer Picker Operator signs in to the WMS using her screen installed on the layer picker, she is automatically given instructions of the layers to pick.
WHAT ABOUT EASE OF TRAINING AND IMPLEMENTATION?
Implementation and training of the layer pickers was relatively simple and is having a tremendous impact on operations within these facilities. Defining the process was the first step. We had to define flow for the layer pick zone and support team for the Layer Pick Operator that includes replenishment of the zone and transfer of pallets to the checking area. Because we placard pallets, we developed a simple process for the Transfer Operator to placard pallets so the Layer Pick Operator does not have to leave the layer picker.