The Shippers Group is excited to announce Maria Abeldanez as The Shipper's Group 2020 Administrative Associate of the Year! A recent surprise celebration was held at our Jonesboro Packaging facility to present Maria with her award and to congratulate her and the site on this accomplishment. Presenting this award was President, Rob Doyle; Vice President of Operations, Curtis Dean; Michelle Belcher, HR Manager; Anthony Ebert, General Manager; and LB Vines, Production Manager.
Maria is our Production Quality Control Lead at our Jonesboro, GA Packaging facility and has been with The Shippers Group for over 14 years. Through her many years with The Shippers Group, Maria has held countless roles and is highly thought of by her team, management, and leadership. She is a key component to our success, and more than deserving of this recognition!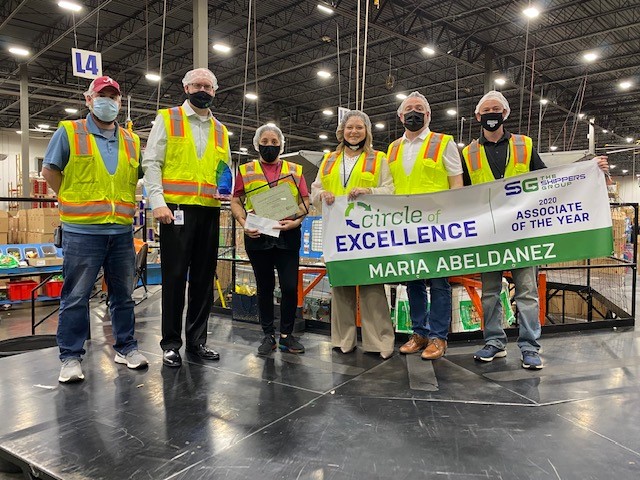 From Left to Right: LB Vines, Rob Doyle, Maria Abeldanez, Michelle Belcher, Curtis Dean, & Anthony Ebert
As described by HR Manager, Michelle Belcher, "The reason this award is so special is because of everyone that surrounds this individual. As part of our WOW program, associates have the option to nominate their coworker for doing an outstanding job, and for going above and beyond what is expected of them. This award means so much to the person being recognized because it is through their peers that they receive it."
Before presenting the award, Rob and Curtis addressed the team as a whole, acknowledging that today wouldn't be possible if it wasn't for everyone's great work and support. Following up on these remarks, LB shared his gratitude for his team's hard work and for Maria's accomplishment:
"I've had the pleasure of having this individual work with me for the past three years. She has been in multiple roles and has come through as someone I trust and rely on every single day. I am extremely proud of and excited for this person and I hope that everyone who knows who this person is will emulate her hard work and dedication."
For a full recap of Maria's celebration, check out the video below:
Congratulations on your award, Maria!
Your hard work and can-do attitude are an inspiration to all of us here at The Shippers Group!
---
The Shippers Group is a leading national third-party logistics company headquartered in Dallas, Texas with distribution facilities in Texas, Georgia, California, Illinois, Florida, and Virginia totaling 16 locations and over 6.5 million square feet of space. To learn more about career opportunities at The Shippers Group, visit our Careers page.