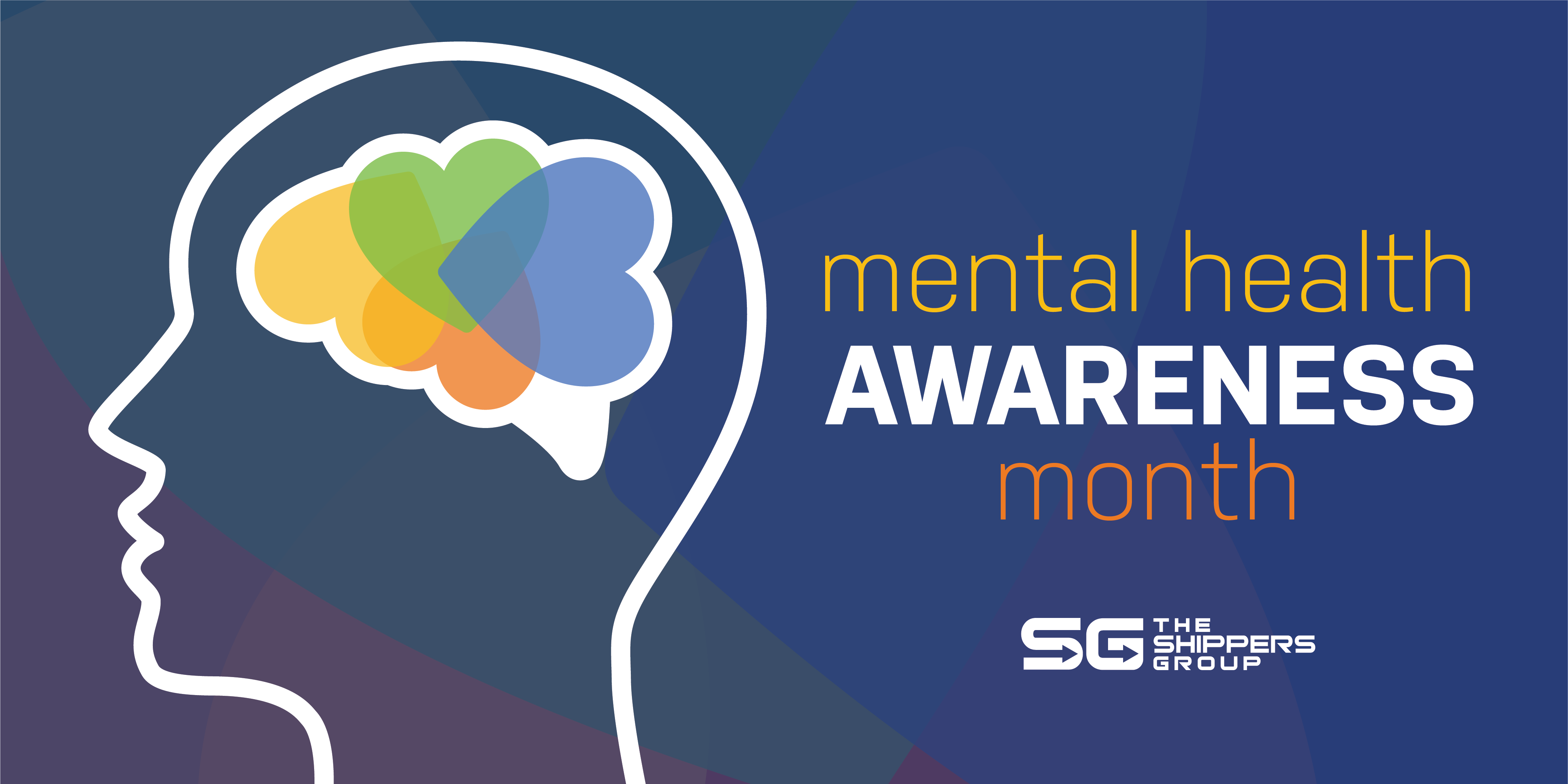 May is Mental Health Awareness month. At The Shippers Group, we believe it's important that every person take care of their overall health for their individual safety, happiness, and well-being. Understanding the basics of mental health is equally as important as understanding the fundamental things that keep us physically healthy like diet and exercise. Mental health includes our emotional, psychological, and social well-being. It affects how we think, feel, and act. It also helps determine how we handle stress, relate to others, and make healthy choices.
Mental health is important at every stage of life, from childhood and adolescence through adulthood. Mental and physical health are equally important components of overall health with each effecting the other. A person's mental health can change depending upon many factors, and there are many causes of mental illness. When the demands placed on a person exceed their resources and coping abilities, their mental health can be impacted. For example, if someone is working long hours, caring for a relative, or experiencing economic hardship, they may experience poor mental health.
Mental illnesses are among the most common health conditions in the U.S. More than 50% of all people will be diagnosed with a mental illness or disorder at some point in their lifetime. Many factors can lead to stress, anxiety, fear, and other strong emotions. It is important to recognize stress, build resilience and know where to go if you need help. Small steps for caring for yourself can go a long way to help you cope with stress and anxiety such as:
Take breaks to unwind through yoga, music, walking, gardening, or new hobbies.
Connect with family and friends to share your feelings and receive their support.
Take breaks from news stories and social media.
Take care of your physical health, get moving.
Eat a healthy diet and get enough sleep.
Avoid alcoholic beverages, use of illegal drugs and misuse of prescription drugs.
Free and confidential crisis resources can help you or a loved one connect with skilled trained counselors in your area.
National Suicide Prevention Lifeline: 1-800-273-TALK (8255) for English, 1-888-628-9454 for Spanish.
Information in this article is provided by the Centers for Disease Control and Prevention.
Source: CDC Mental Health Resources
---
The Shippers Group is a leading national third-party logistics company headquartered in Dallas, Texas with distribution facilities in Texas, Georgia, Florida, and Virginia totaling 11 locations and over 5.2 million square feet of space. In addition to warehousing and transportation services, the company provides contract packaging and e-commerce fulfillment to the food, consumer goods and automotive industries. The Shippers Group was founded in 1901 and today employs over 1,500 associates nationwide.