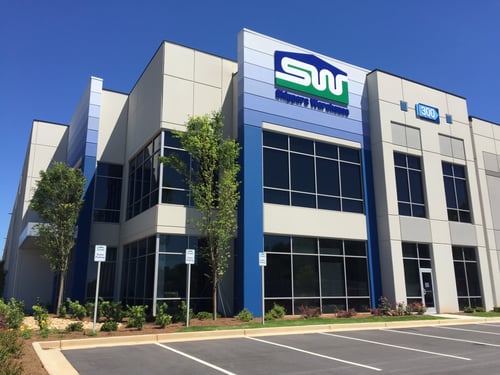 Shippers Warehouse not only has a new name, The Shippers Group, we are also proud to announce the opening of our newest facility in Austell, Georgia.
Constructed late last year and opened in January, the facility at 300 Interstate West Parkway in Austell, Georgia is 530,000 square feet with 89 dock doors, 20,000 sf of cooler and ceiling clearance of 39 feet.
Located on Interstate I-20 with immediate access to I-285 and close proximity to Atlanta Hartsfield-Jackson International, this location is ideal within the Atlanta metro area easily connecting to I-75 and I-85. This is our second facility in the Atlanta metro bringing our total square footage in the region to over 1 million square feet. Jonesboro, Georgia, southwest of downtown Atlanta, has been home to our Atlanta operations for more than twenty years.
With the addition of our newest facility just west of downtown Atlanta, The Shippers Group continues to expand our footprint in food and consumer goods distribution as well as our packaging operations, automotive clients, and fulfillment operations in the southeast region.
The facility in Austell is breathtaking inside and out sitting atop one of the highest points in Cobb County with an amazing tree top view of the area. Beyond the impressive exterior with plenty of trailer parking and state-of-the-art driver welcome center, latest technology and newest equipment, shiny floors and new rack, what shines the most is our people. We opened the facility with a seasoned group of professionals who came as a team.
When asked about what he felt was the key contributing factor to the success of the Austell start-up, General Manager Curtis Dean remarked, "Anytime you can bring in a team that has worked together previously for a start-up, it makes the process as a whole flow much smoother. We were able to take individuals who had either worked with our management team or were recommended by coworkers and build a cohesive team in a very short period of time. The success of the Austell start-up boiled down to the associates, their willingness to take on the task, their drive for success and their flexibility."