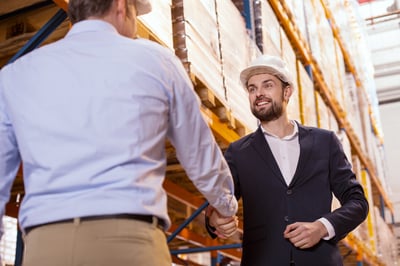 How do you know a 3PL is right for you? Taking the time to evaluate your next 3PL partner can save you time and money. In fact, moving from one 3PL to another can be extremely costly so your time to get to know your 3PL partner upfront is an important investment.
"You need to understand the quality of service that you're receiving," says Hugh Tait, Senior Vice President of Customer Solutions. "It's expensive to change, and if you select a 3PL well you should get a fair price/service."
So which questions should you ask? Tait says that customers often are not focusing on the things they should. In general, customers need to focus more on strategic strengths and the relationship long-term.
---
Question: What kind of partner will the 3PL be?
Part of the right fit relates to how companies will work together and collaborate. The 3PL relationship is much closer and intimate than say the relationship with your transportation providers. They are watching over your inventory every day and need to be responsive. Your 3PL partner should be able to suggest solutions to improve your supply chain performance and efficiency.
Question: Do they understand your business?
A good 3PL understands your business, the sales cycles and other critical components to help them store your inventory and provide additional services that can optimize your supply chain. Is your product sold in retailers or online? Is your product regulated? What is the turnover rate of your product? These considerations are highly important to your business and should be understood by your 3PL provider.
Question: Do they have the expertise/capability to handle your products?
Customers need to understand the systems and capabilities needed to maintain accuracy and store your products. Some products can be stacked, while some need racking. Some need temperature-controlled warehousing. What other products will be nearby and what effect does that have on your product? Make sure you understand the capabilities of their WMS system for inventory locations, stock rotation and track/trace capabilities. Not all 3PLs provide every service; you should ask each 3PL candidate about their specific capabilities.
Question: Do they have references?
Learning about the company and talking to current customers is a great way to find out how they handle problems, responsiveness and customer service. Always schedule a visit and tour the warehouse where your products will be stored. Meet the supervisor, general manager and leadership.
---
Are you in the market for a new 3PL? The Shippers Group provides warehousing, packaging, e-commerce and transportation services. Find your next 3PL partner by calling (214) 381-5050 or visit our contact page for more information.