National Hire a Veteran Day, a day that is observed every year on July 25th, encourages employers to consider veterans in their employment strategies and to fill their open positions. This day provides awareness and serves as a platform to show that our veterans are qualified and trained and looking for jobs within the civilian workforce.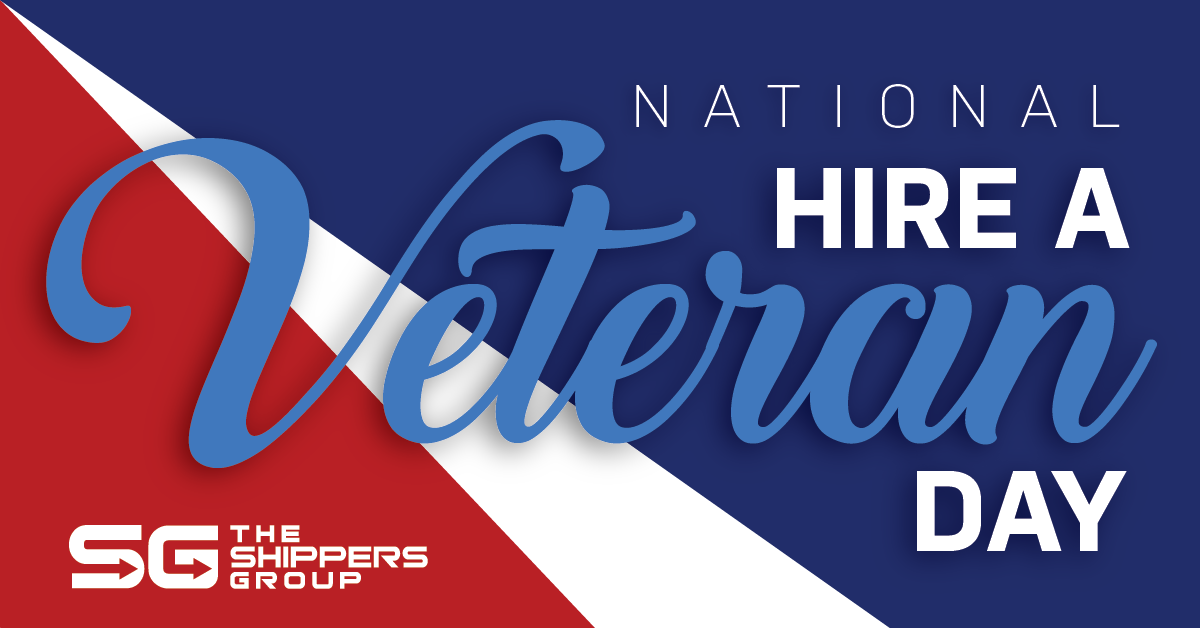 According to the LinkedIn Veteran Opportunity Report, 33% of veterans are underemployed—meaning not having enough paid work or not doing work that makes full use of a person's skills and abilities. Our government spends millions of dollars to train these individuals, but they often get overlooked in jobs for the individual with the credit toward a professional degree. This also goes for military spouses because of their frequent relocations and inability to transfer occupational licenses from state to state.
Creating and filling opportunities to employ veterans is an important part of our hiring strategy at The Shippers Group. As our President, Rob Doyle, is former enlisted, this was an initiative that has been given much focus since his joining of the company. Rob, along with the Shippers' team, recognized the need to help our veterans successfully transition to the civilian workforce.
Our Human Resources team has supported these efforts and made it a priority to do our part. In 2019, the HR team at The Shippers Group successfully completed the SHRM Foundation Veterans at Work Certificate Program to give our leadership and HR team valuable insight into how we can better focus on hiring and meeting the needs for those who have served. The certification is given to organizations that understand the needs of our veterans and military spouses. It is available to individuals and organizations that develop a progressive recruiting strategy by focusing on best practices to attract, hire, and retain those who have sacrificed to help preserve our freedom and keep us safe.
"I am proud of our efforts as a company to add more and more veterans to our family here at The Shippers Group, an effort which will certainly continue long into the future. Veterans bring very diverse skills and experiences to our workforce and are a key component of our diversity and inclusion efforts. We are very proud of our veterans and feel very fortunate to have them on our team as they add such richness and esprit de corps to our 120-year company history."

– Rob Doyle, President
We encourage other employers to educate themselves on this need and to do their part in helping these heroes and their spouses find a career that is right for them. For more information about hiring veterans, you can visit the Department of Labor's Employer Guide to Hiring Veterans.
The Shippers Group is continually on the search for new talent. If you are a veteran seeking a new position, we encourage you to check out our job openings and apply today, or you can visit our Contact Us Form and fill out your information, and our HR team will be in touch with our current opportunities.
Thank you to all veterans for your service to this country. Our freedom is credited to you, so today, and every day, we remain dedicated in supporting our veterans as they take the next steps in their careers and transition into the civilian workforce.
---
The Shippers Group is a leading national third party logistics company located in 6 states with over 5.4 million square feet of distribution space. In addition to 3PL warehousing services, the company also provides contract packaging, ecommerce and transportation management services.
Learn more about The Shippers Group's locations and services by clicking here.