Celebrated annually since 1971, Women's Equality Day falls on August 26, which is the anniversary date of the ratification of the 19th amendment, granting women the right to vote. The national day symbolizes the continued fight for equal rights for women and that our country commends and supports them in this fight.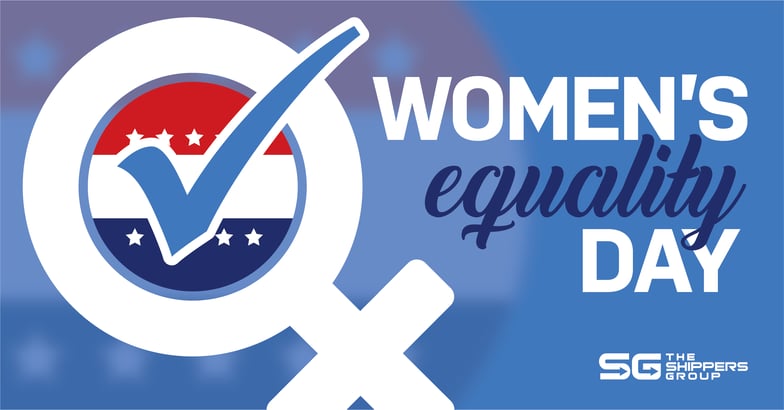 When it comes to the supply chain industry, women have historically been underrepresented. However, according to a recent article by Jen A. Miller, published by Supply Chain Dive, women in the field are getting closer to getting parity in the number of jobs and salary. Though the numbers still aren't quite there, change is happening, and progress is being made in the right direction. In fact, the pay gap between men and women under 40 has finally closed.
In addition to seeing women starting on more equal footings early in their careers, the supply chain industry is also starting to see their recruiting efforts pay off, with women now making up 41% of the supply chain workforce, as reported in the 2021 Women in Supply Chain Survey by Garner and Awesome. Marking the highest percentage since the survey started back in 2016, Vice President Dana Stiffler and analysts at Gartner Supply Chain Practice credit this increase to more companies making commitments to diversity, equity, and inclusion.
Women's Equality Day is an important day at The Shippers Group, as it aligns with our commitment to being the most diverse and inclusive 3PL partner, because we know that with our differences comes strength, empowerment, and greater performance. Having a diverse team enables us to drive innovation and company growth, and create change that positively impacts our associates, partners, and the communities we serve.
The Shippers Group remains actively engaged in not only hiring a diverse workforce, but also in creating an environment that is focused on retaining our valued associates; efforts which have allowed us to grow our number of women in management positions by 70% over the past three years. In addition, women now make up 45% of our Executive Committee. While there are still gaps to be closed, The Shippers Group remains committed to these efforts and supporting women in supply chain because together, we make The Shippers Group the best it can be, as a company, as an employer, and as a supply chain partner.
---
The Shippers Group is a leading national third-party logistics company headquartered in Dallas, Texas with distribution facilities in Texas, Georgia, California, Illinois, Florida, and Virginia totaling 16 locations and over 6.5 million square feet of space. To learn more about career opportunities at The Shippers Group, visit our Careers page.