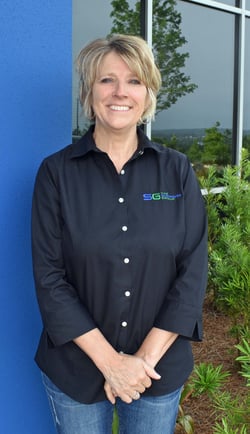 Kris Hill has recently been named Director of Customer Service at The Shippers Group. If you ask Kris how long she has worked for Shippers, she'll laughingly say that she started as "a child in the mailroom." Although she might have been just a little bit older when she started than she implies, she did in fact start with Shippers Warehouse performing data entry functions from faxes, TWICS, and orders received by U.S. mail and recently just celebrated 33 years with the company.
Kris explained, "Back then, you just wore a lot of different hats and jumped in doing whatever needed to be done." As a result, Kris had opportunities to work across many functional areas of the company. She spent time in the early days of her career at Shippers Warehouse working with I.T., Accounting and even Transportation. By the late 1990's, Kris was a Customer Service Lead and was already taking over responsibility for new account set-ups. By 2005, she had become the Office Manager. More recently Kris has served as Corporate Customer Service Manager for The Shippers Group.
When asked about the biggest change that she has seen in the business throughout the years, she recalls an account that looking back was on the leading edge of the new ecommerce frontier. It was around 2,000 and the company sold holiday novelty items such as ornaments, collectibles, etc. Customers placed orders online from around the world and those orders dropped into the Shippers Warehouse system at a facility dedicated to this customer. Ecommerce had not really exploded yet, as the internet and smart phones were just starting to take over the planet and eBay and Amazon were relatively new for consumers. She recalls how exciting it was to be able to receive orders from consumers around the world directly into our system at Shippers Warehouse. At that time, Kris was still wearing many hats as she would also assist with order picking and packing for this customer.
Kris says some things haven't changed, like Shippers desire to do whatever it takes to make customers happy. She says, "It's a culture that is engrained in us by our original owner, Darby Strickland, and today we are still just as committed to doing what makes customers happy."