What is a hazardous material? According to DOT, a hazardous material is defined as a substance or material that is capable of posing a significant risk to health, safety, or property when transported in commerce. From corrosives, to flammable liquids, to even cleaning chemicals - many businesses have hazardous materials within their facilities.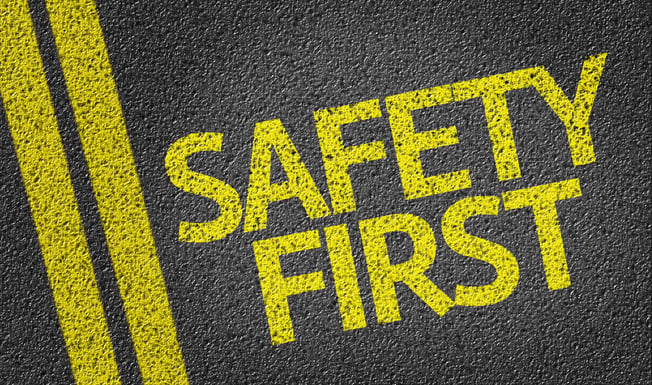 Understanding the basics for safe handling of hazardous material is important in preventing employee injury and keeping a facility free from accidents. Hazardous materials must be correctly identified, used, stored, and disposed of. With over 40,000 chemicals currently in commerce, communicating the correct information and taking all necessary safety precautions is crucial.
Here are 10 general rules to follow to ensure safe handling and storage of hazardous materials:
Follow all established procedures and perform job duties as trained.
Make sure materials are stored in appropriate containers, and that all containers are labeled properly. Do not use any chemical that is not labeled.
Read the label and the Safety Data Sheet (SDS) before using any material to make sure you understand the hazard and what precautions need taken.
Always use appropriate Personal Protective Equipment (PPE). Equipment should be inspected carefully before each use and should be stored correctly to ensure it works properly.
Use all materials solely for their intended purposes.
Always wash thoroughly with soap and water after handling hazardous material. Work areas should also be kept clean, so contamination risks are minimized.
Access to hazardous material should be limited to authorized employees only. Gate systems, general employee training, and materials sign-in/sign-out sheets are good methods to limit access.
Educate all employees on locations of hazardous materials and encourage them to report any suspicious activity.
Keep emergency eyewash and shower stations clean. Routine tests should be conducted to ensure equipment is working properly.
Establish a relationship with local first responders. This will save time in case of an emergency. When first responders know what is on site and where it is located, they can quickly make decisions on how to approach rescue situations.
Each hazardous material comes with its own side effects and damage potential, so proper training is important in preventing risk. Implementing and educating employees on these 10 general rules regarding hazardous materials is crucial for their safety.
---
The Shippers Group is a leading national third-party logistics company headquartered in Dallas, Texas providing supply chain support to brand leaders and market innovators in industries including food and consumer packaged goods. With food-grade multi-client and dedicated distribution facilities in the United States, The Shippers Group provides supply-chain solutions with outsourced warehousing, transportation, contract packaging, and e-commerce fulfillment services. Since 1901, The Shippers Group has relied on core values of integrity, innovation, excellence, and safety to grow customer relationships, focus on continuous improvement, and engage sustainable business practices that deliver results. More information is available at www.theshippersgroup.com.