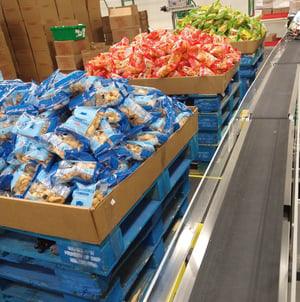 Contract Packaging, or Co-Packing, is the process of assembling a product into its final finished packaging. It can be a simple or complex process, customized to your individual needs. Contract packagers possess the resources to respond to many different types of packaging needs in a timely manner, which gives product manufacturers the flexibility to define a packaging process that is best suited for their products.
Some common co-packing needs are for Multipacks and Variety packs. Multipacks are defined as a package of two or more individually packed items that are sold as a singular unit. This includes items like a 12 pack of soft drink cans or an 18 count of full-size candy bars. Variety packs are mixed multipacks in which two or more different products are packaged together. Some examples might include a flavor assortment of chips or an assorted flavor pack of alcoholic drinks.
As retailers are always looking for ways to innovate and increase their sales, multipacks and variety packs are great strategies sellers can use to boost their overall revenue and profits.
The Benefits of Offering Multi and Variety Packs to your Consumers
Enhance Customer Experience – Offering multipacks allows your customer to get more for the price they pay. Instead of choosing between their favorites, it gives the customer the chance to choose products grouped by their wants.
Increase Average Order Size – When grouping products together, you are increasing your average order size, which also increases the amount spent on each order by the consumer.
Higher Margins – Because variety packs encourage the consumer to order in a larger quantity, this can help lower the cost of the individual units, ultimately resulting in a higher margin.
Turns Slower Moving Products – It is better to keep the stock moving while it can still be useful or before it becomes expired. Variety packs can help boost the sales of slower moving products by grouping them with current favorites.
How The Shippers Group Can Help with Your Co-Packing Needs
The Shippers Group is a leading 3PL warehousing and packaging company. As an industry leader in food and consumer goods packaging, The Shippers Group provides assembly of variety packs, point-of-sale displays, club packs and kitting.
We have packaging equipment, experienced labor, production, and warehouse space to handle packaging of multiple SKUs and variety packs. Our automatic equipment and variety pack processes are managed by experienced personnel implementing lean processes to successfully carry out co-packing projects. As an experienced 3PL, we also have the ability to warehouse and distribute the packaged product – which minimizes the amount of supply chain partners needed to reach your consumers.
By relying on The Shippers Group as your distribution and co-packer provider, manufacturers can streamline their supply chain and save on costs associated with the expenses from transferring their product between point of manufacturer, co-packing operation, and storage and distribution.
To learn more about The Shippers Group's packaging services, contact us today or visit our website pages: TSG Atlanta Contract Packaging & Co-Packing Services, TSG Dallas Contract Packaging & Co-Packing Services, and TSG Dallas Beverage Packaging Services.
---
The Shippers Group is a leading national third-party logistics company headquartered in Dallas, Texas with distribution facilities in Texas, Georgia, Florida, and Virginia totaling 11 locations and over 5.2 million square feet of space. In addition to warehousing and transportation services, the company provides contract packaging and e-commerce fulfillment to the food, consumer goods and automotive industries. The Shippers Group was founded in 1901 and today employs over 1,500 associates nationwide.