On Sunday, September 27th, Peter Sexton out of our Jonesboro, GA location will be riding solo in The Distinguished Gentleman's Ride.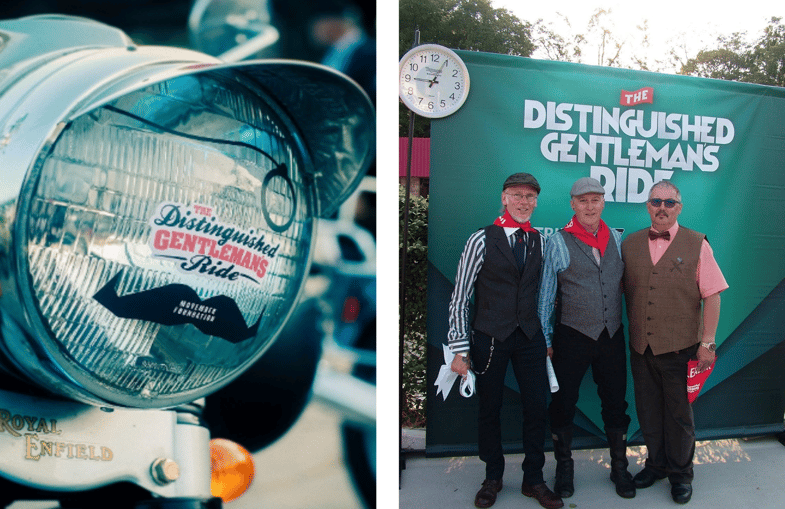 Photos from 2019's Distinguished Gentleman's Ride, with Peter Sexton on the Right
The Distinguished Gentleman's Ride (DGR) is a fundraising event where one day, every year, thousands of men and women from over 700 cities around the world participate in a ride to raise funds for local mental health and suicide prevention and prostate cancer research projects. The funds raised are invested by Movember, the official charity partner of the Distinguished Gentleman's Ride. Both organizations share one simple, common goal: "Giving more life to our father, sons, brothers, and friends."
In what normally are large-scale events, this year's ride will look a little different with a theme of "Ride Solo Together", in response to the COVID-19 Pandemic. This year instead, it's about dressing dapper, riding solo, and connecting on social media with the community worldwide.
If you would like to join Peter in raising funds for this event and help him reach his goal, click here for his personal donation page.
If you are in the Atlanta area, the Atlanta DGR Organizers/Gentry Motorcycle Club will also be having a fundraising and awareness event for the Ride on September 12th at Guffey's of Atlanta (3340 Peachtree Rd. NE #10, Atlanta, GA 30326) from 10am until 4pm. Sponsored by Bellstaff and Triumph, there will be an array of new Triumph models on display both inside and outside of the store. The event is open for anyone interested in men's health issues, or anyone who wants to support a great cause. Stop by and dress dapper, and for a chance to win some Bellstaff gear, bring your bike and get your picture taken at the DRG wall to participate in the drawing!
We are proud to have Peter on our Shippers' team and appreciate his servant attitude for the community!
---
The Shippers Group is a leading national third party logistics company located in 6 states. In addition to 3PL warehousing services, the company also provides contract packaging, ecommerce and transportation management services. To learn more about all of the services offered by The Shippers Group, click here.