It's 8am and you're working remotely due to COVID-19. It's a busy day ahead with a number of conference calls on the calendar and a project deadline looming later in the afternoon. You're planning to put the finishing touches on that project between calls, but you can't connect to the VPN. What happens next? Frustration? Panic? Not when you work at The Shippers Group because we have David Diaz!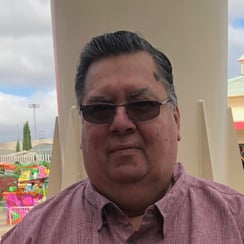 David is TSG's Senior Hardware Technician. Some fondly call him Dr. Diaz, because on the occasion of this misfortune, David Diaz can diagnose the issue, fix the problem, and save the day!
The face of the IT department to internal customers, David is one of the first TSG associates that new employees meet when joining The Shippers Group. David welcomes new associates when setting up their computer.
TSG's hardware guru, David installs and maintains IT equipment on the warehouse floor. Warehouse teams enjoy working with David. He is personable and pleasant, just the kind of person that puts you at ease when your device misbehaves and frustrations run high. Associates know they can count on David to successfully install hardware, and on the occasion when a device goes down David will diagnose the problem, fix the issue and get them back to work in a timely manner.
Today is IT Professional Day and we've chosen to recognize our very own "Doctor" David Diaz for his selfless commitment to The Shippers Group. Thank you David for all you do!
---
The Shippers Group was founded in 1901 and today employs over 1400 associates nationwide. For more information on The Shippers Group, visit our services page.