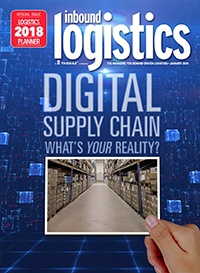 The Shippers Group (TSG), a national third-party logistics company that provides efficient warehousing, transportation, co-packaging and e-commerce fulfillment, is featured in the January 2018 Logistics Planner issue of Inbound Logistics Magazine.
The Logistics Planner features an exclusive group of companies from all disciplines in the supply chain. This supplement issue highlights company's expertise to help manufacturers to locate the right partners to address their logistical needs.
"We are very honored to be featured among the top companies in supply chain today," says Rob Doyle, president of The Shippers Group, based in Dallas, Texas. "It speaks volumes about our commitment to advancing our people, processes and technology."
According to the article, "TSG systems provide agile support to meet the unique needs of our multi-customer distribution operations. From pick-to-voice, layer pickers, robust WMS and LMS systems, we're employing and developing innovative methods within our operations, improving accuracy and efficiency."
In addition to the feature article, the company also ran an advertisement in the same issue, which explains the significance of the recent brand transformation to The Shippers Group. View the ad on page 37 of the digital edition.
Learn more about The Shippers Group services or call (214) 381-5050.