The Shippers Group is excited to announce we were recently named the 2019 Supplier of the Year by our customer in our Jonesboro, GA location!
The Shippers Group received this award based on our high inventory accuracy, supply plan accuracy, fill rate, and shipment accuracy. In addition to our Key Performance Indicators (KPIs), we also received this award for our efforts of going above and beyond for our customer and showing flexibility to accommodate our customer's changing needs.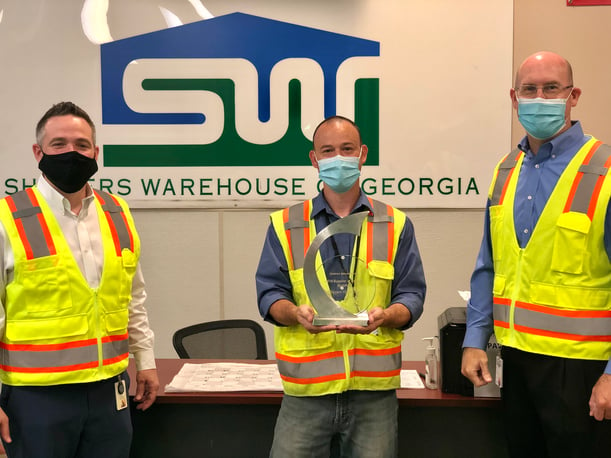 This award is credited to every single associate designated to the account, so to show our appreciation, a catered lunch was held at our Jonesboro facility for both shifts.
During the luncheon, General Manager Anthony Ebert, addressed his team, saying: "This is a huge award for us - it's the company's first time winning this award. We wanted to show our thank you because without you guys, we would not be able to obtain the goals that we reached in 2019, and what we have accomplished so far in 2020. Thank you very much for your hard work and efforts, and we truly do appreciate it."
To personally thank our team for their hard work and dedication to our customer's account, President Rob Doyle, and VP of Operations Curtis Dean also attended the celebration.
"This is a huge accomplishment. Every year we would see other groups win this award when we knew you guys were doing a great job. Last year, you all stepped up, and your efforts were noticed. This is honestly something when they told us after eight years of being involved with this account, is a huge deal for us to win. We appreciate everything you guys are doing every day." – Curtis Dean conveying his appreciation to the team during their luncheon.
Following-up on Curtis's remarks, Rob spoke "I want to say thank you, as well on behalf of the ownership, Ken and Graham. This is over a 20-year customer thanks to everyone's hard work, day-in and day-out. We can't do it without you. Thanks for sticking it out through COVID-19 and getting the job done. Thank you all, and I appreciate everyone."
Congratulations to our Jonesboro team on your well-deserved award!
---
The Shippers Group is a leading national third party logistics company located in 6 states. In addition to 3PL warehousing services, the company also provides contract packaging, ecommerce and transportation management services. To learn more about all of the services offered by The Shippers Group, click here.