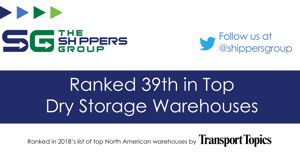 The Shippers Group is proud to be amongst the top 50 dry warehouses in the U.S. according to Transport Topics. TSG was ranked 39th out of 119 companies in the dry storage category. The article states that TSG has a total of 4.5 million square feet in 11 warehouses facilities across the U.S.
"We are extremely proud of this honor considering our rapid growth in the last few years. We opened new facilities in Georgia, California, Virginia and Texas. We expanded our services in packaging and fulfillment. And, we've invested to support our strategic growth by staffing for key positions focused on quality, processes and training," says Rob Doyle, president of The Shippers Group.
The Top 50 list is a joint effort between Transport Topics and Armstrong & Associates Inc., a market research firm. According to the report: "Companies are ranked on actual or estimated net revenue and include a description of services, names of top executives, key customers and industry expertise."
See the complete list here: Transport Topics 2018 Top 50 Logistics Companies.