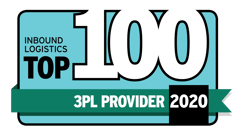 When choosing the 2020 Top 100 3PL Providers, Inbound Logistics editors looked for providers who offer the visibility, flexibility, speed and control to drive supply chain solutions that enable shippers to achieve their goals and meet customers' evolving needs. Inbound Logistics is proud to honor The Shippers Group for innovative solutions empowering logistics and supply chain excellence in 2020.
The Shippers Group is a leading national 3PL warehousing, transportation, ecommerce and packaging company. Rob Doyle, President of The Shippers Group has this to say about being named a Top 100 3PL Provider for the fourth consecutive year,
"With innovation as one of our core values, we are extremely proud that Inboun
d Logistics has chosen to recognize The Shippers Group. As our customers' supply chains have been disrupted during the global pandemic, we've focused our efforts to adapt quickly and creatively to develop meaningful solutions."
TOP 100 SELECTION METHODOLOGY
Inbound Logistics' Top 100 3PL Provider's list serves as a qualitative assessment of service providers best equipped to meet and surpass evolving outsourcing needs. Distilling the Top 100 becomes increasingly difficult as more 3PLs enter the market and service providers from other functional areas develop value-added logistics capabilities. Each year, Inbound Logistics editors select the best logistics solutions providers by carefully evaluating submitted information, conducting personal interviews and online research, and comparing that data to burgeoning global supply chain and logistics challenges.
IL editors selected this year's class of Top 100 3PLs from a pool of more than 300 companies. The service providers selected are companies that, in the opinion of IL editors, offer the diverse operational capabilities and experience to meet unique supply chain and logistics needs.
ABOUT INBOUND LOGISTICS
Inbound Logistics, the demand-driven logistics magazine, is the leading multi-channel content provider targeted toward business logistics and supply chain managers. Inbound Logistics' mission is to help companies of all sizes better manage corporate resources by speeding and reducing inventory and supporting infrastructure, and better matching demand signals to supply lines. More information is available at www.inboundlogistics.com
---
The Shippers Group is a leading national third party logistics company located in 6 states. In addition to 3PL warehousing services, the company also provides contract packaging, ecommerce and transportation management services. To learn more about all of the services offered by The Shippers Group, click here.