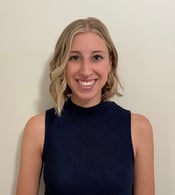 The Shippers Group is proud to announce that Maggie Harvey has been promoted to Director of Marketing.
"Maggie is well prepared for this new role as her initiative and eagerness to learn combined with supreme work ethic have effectively prepared her for additional responsibilities in Marketing and Sales for the company," remarked Robin Siekerman, VP of Marketing & Customer Solutions for The Shippers Group.
During her tenure at TSG, Maggie has excelled in her role as Sales and Marketing Support Specialist. Maggie has demonstrated leadership and exceptional professionalism working across functional areas internally, as well as externally with client prospects and current customers. She will use her creative prowess and passion for marketing to direct and advance the company's marketing efforts along with her analytical dexterity to support sales processes and new business development.
"I am excited for this opportunity to grow in my career and am grateful for the training I received from The Shippers Group - through both mentorship and the Emerging Leaders Program - to help prepare me for this new role," said Harvey. "I look forward to being able to utilize these skills to further enhance our marketing and business development efforts, with the ultimate goal of positively impacting our company's growth."
Please join us in congratulating Maggie for a job well done, and we wish her continued success at The Shippers Group in her new role as Director of Marketing.
---
The Shippers Group is a leading national third-party logistics company headquartered in Dallas, Texas with distribution facilities in Texas, Georgia, Florida, and Virginia. In addition to warehousing and transportation services, the company provides contract packaging and e-commerce fulfillment to the food, consumer goods and automotive industries. The Shippers Group was founded in 1901 and today employs over 1,500 associates nationwide.