The Shippers Group is excited to announce we have received a 2020 TMSA Compass Award of Merit!
Every year the Transportation Marketing & Sales Association (TMSA) holds a Compass Awards Program where industry leaders can submit their company efforts for the year to receive meaningful recognition of excellence in strategy, creativity, innovative solutions, and business results.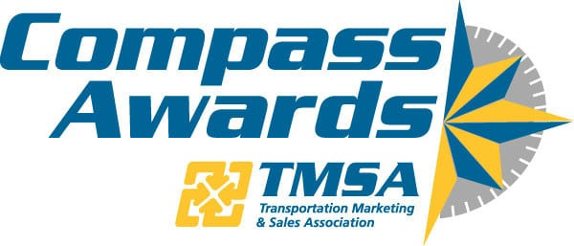 "As part of TMSA's mission, the Compass Awards Program plays an important role in raising the standard of marketing innovation and sales performance in the transportation and logistics industry," said Brian Everett, TMSA's CEO. "This well-respected awards program recognizes the best and most relevant marketing, communications and sales initiatives in our industry."
This year's Compass Awards program featured 15 submission categories: Integrated Campaign, Content Marketing, Digital Sales and Marketing, Social Media Campaign, Advertising Campaign, Media Relations, Events, Direct Marketing Campaign, Sales and Marketing Collateral, CRM Solution, Sales and Marketing Collaborated Effort, New Product Development, Pricing Process and Analysis, Recruiting or Retention Campaign, and Corporate Social Responsibility or Diversity Campaign.
Last year, The Shippers Group launched a Customer Relationship Management (CRM) movement to better manage our company's interactions with potential customers and current customers. This not only automated and synchronized our business process, but as a result allowed us to achieve stronger sales and marketing alignment. The Shippers Group submitted these efforts, and in response to our entry, The Shippers Group received a 2020 TMSA Compass Award of Merit for the category of CRM solution.
In recognition to our award, President Rob Doyle spoke "Our marketing team – Robin Siekerman and Maggie Harvey - put a lot of work into this and to see their hard work be recognized by our peers and have that work also leading to increased sales like it has for us, is just awesome! Job well done!"
The Shippers group is looking forward to attending the 2020 TMSA Logistics Marketing & Sales Virtual Conference that takes place online October 21st-22nd, in which The Shippers Group, along with all other recipients, will be recognized during a special program.
---
The Shippers Group is a leading national third party logistics company located in 6 states. In addition to 3PL warehousing services, the company also provides contract packaging, ecommerce and transportation management services. To learn more about all of the services offered by The Shippers Group, click here.